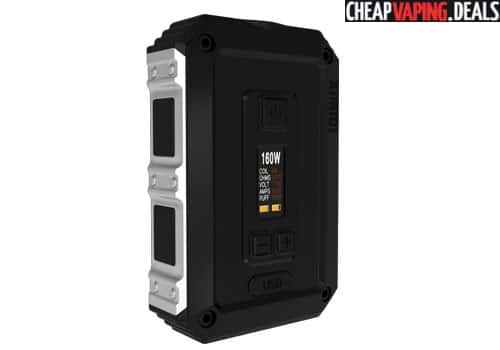 Check out this discounts for the Aimidi Tank T2 160W Box Mod: metal armor and waterproof holes.
Tank T2 Overview
The Tank T2 is the latest high wattage box mod from Aimidi.  It features 160 watts of power, a 0.96 inch color display, metal armor, impact truss and has waterproof decompression holes.
While the dimensions are not huge at 105.5mm x 71.1mm x 27.5mm, the weight comes in at 321.5g, making this box mod very heavy.  This is due to the stainless steel with polymer alloy that were used to make the device.  With sturdy screws, ballistic bezels, metal armor on the sides, waterproof holes and an impact truss design, this mod truly is a tank.  A truss — often found in buildings to support the roof — is said to make this mod more resistant to impact.  At this time, you can only get the T2 in black, but future colors include silver, blue, red, camouflage and army green.
An amazing aspect of the unit is the 0.96″ full color display located on the front.  It features a vertical menu with vape stats that include coil type, resistance, voltage, amps, puff counts and battery bars for the dual 18650 cells that power the Aimidi Tank T2.  The cells are recharged via a micro USB port underneath the display.
Unfortunately, there is very little known about the technical specifications of this mod.  It is built with a TX 160W chip permitting a power output range of 7W to 160W.  But, we do not know the the lowest atomizer resistance, the accessibility of the batteries or whether it operates in variable temperature mode.
Tank T2 Features & Specs
Dimensions: 105.5mm x 71.1mm x 27.5mm
Weight: 321.5g
Materials: stainless steel and polymer alloy
Colors: black, red, blue, silver, army green, camouflage
Impact truss
Metal armor
Water proof decompression holes
Ballistic bezels
Sturdy screws
0.96″ color TFT screen with vertical menu
Powered by dual 18650 cells
Micro USB charging
510 threaded connection
Power output range: 7W to 160W
Lowest atomizer resistance: unknown
Available modes: unknown
Pictures