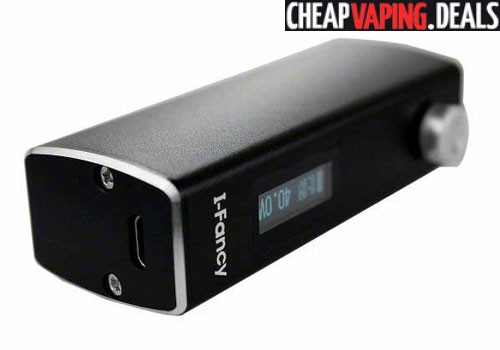 Amigo I-Fancy 50W Box Mod Deal
Get an authentic Amigo 50W Box Mod cheap.
USA: $59.99 

$32.91 & Free Shipping

   
The I-Fancy is a 50 Watt regulated box mod designed and manufactured by Amigo Itsuwa.  This device is made of aluminum and is available in black, green or silver.
This box mod is similar in size to the Istick 20W.  The 510 connector is not adjustable.   To turn it on, simply push the fire button five times.
The OLED display shows the Voltage, Wattage, battery life and resistance.  The fire button itself is  a turn-style knob that can adjust wattage from 7  to 50 Watts in .5 Watt increments. The I-Fancy will fire down to .3 Ohm resistance so it's compatible with the majority of atomizers, rebuildables or sub ohm tanks.  It has a 10 minute auto-shut off.
The unit features a 2000mAh internal battery which should last most vapers all day long.   Charging is done via the included USB cable.
Overall, this is a simple and lightweight, yet quite powerful device.  It's fantastic when you want to use a smaller mod that fits in your pocket.
Features
Light aluminum body
Easy turn knob button to adjust wattage
Dimensions: 81mm x 22mm x 32mm
Resistance from 0.3 to 3.0 ohms
Voltage from 3.7 to 4.2 Volts
Wattage from 7 to 50Watts
510 threading
Three hour charging time
Visit the Amigo Itsuwa Homepage
Amigo I-Fancy Box Mod Video Review
Total Views Today: 1 Total Views: 23