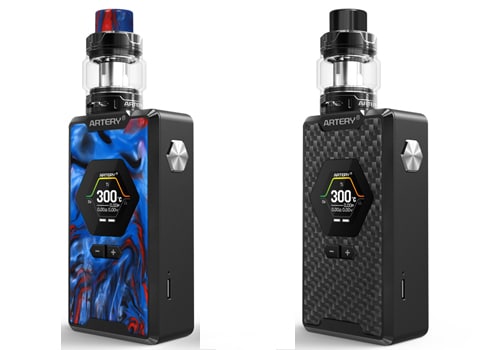 Here are cheap deals for the Artery Hive 200W Box Mod Kit.  The mod in this kit features 200 watts of power, an advance AERO chip set, a large 1.3 inch full color display with a bee hive style interface, innovative flavor modes, 14 different safety protections and a wide range of unique operating functions. The Hive Tank in the kit features a mid to high wattage mesh coil system for vapor and flavor, a 4ml juice reservoir, dual bottom adjustable airflow and a top fill system.
Overview
Design-wise, the Hive 200 Box Mod looks to be high end thanks to a resin or carbon fiber finish over an aluminum alloy chassis. It's also quite compact with dimensions that come in at 90mm x 49mm x 28mm. On the front face plate, you will see a one-of-a-kind 1.3 inch full color TFT display that is shaped like a honeycomb for an exquisite appearance. The main menu on this screen has vape data including current mode, current wattage or temperature, puff time, resistance and voltage. The sub menus to change the modes and settings all feature honeycomb style icons in a bee hive like configuration. The display can be set to many colors including green, white, yellow, orange, blue or purple. On the opposite site of the Artery Vapor Hive, you will see a beautiful hive emblem that looks to be made from a stainless steel material, as is the fire button on the Hive which is also shaped like a honeycomb.
In addition to the unique design, the Artery Hive Mod is also built with a proprietary Aero chip board to give it unique flavor mode functionality and a myriad of safety features. The operating system includes modes for power, power curve, temperature control stainless steel, temperature control with nickel, temperature control with titanium, TCR and variable voltage. In the settings menu, you may also set the device to one of many unique flavor modes for purer taste production, especially for mixed fruit e-liquids, but also for milk and coffee flavored juices. Additionally, there are other operating functions such as a system lock, power lock, tc resistance lock and power curve features. Firing the Artery Hive occurs almost instantly with a response within 0.01 second and power output tops out at 200 watts or 8 volts, temperature at 600 Fahrenheit or 300 Celsius and resistance comes in at a decent minimum of 0.08ohm. To top off all this functionality, there's also a whopping 13 safety protections including overcharge, overheat, 10 second cutoff, ESD circuit, low resistance, short circuit, no load, overload, balanced charge, low power, pass through, over-current, battery protection and e-juice protection (nano coating).  Powering the Hive are dual 18650 batteries that are installed by removal of the magnetic back panel and are recharged via a side micro USB port.
If you buy the full Artery Hive Kit, you will also get a Hive Tank which adopts a mesh coil that was produced after months of research and devolopement. It fires with a resistance of 0.14ohm in the range of 50 to 90 watts, has a long lasting life, produce massive vapor and tons of flavor in combination with dual air inlets that are adjusted at the bottom. Design-wise, the Hive Tank can hold up to 4ml of e-juice with the bulb style tank installed, but there's also a 3ml standard glass section included with purchase. Refills are also effortless as you simply unscrew the top cap to reveal dual massive juice ports. Simply pour the juice in.
If you purchase the full Artery Hive Kit, you will receive the mod, tank, a replacement coil, a replacement glass section, a micro USB charging cable, a bag of o-rings, a card with chipset information, a manual, an authenticity certificate and a warranty card.
Artery Hive Kit Features & Specifications
Hive 200 Mod
Dimensions: 49mm x 28mm x 90mm
Made from aluminum with carbon fiber or resin panel
Back panel shield logo
Pentagon shaped SS fire button
510 threaded connection
1.3 inch full color display

Set color scheme
Unique hive style menu
Honeycomb icons
User friendly

Powered by dual 18650 batteries

Back magnetic battery door
Gold plated contact in the battery bay
Micro USB charging system

Proprietary AERO chipset

Operating modes: VV, Power, Power Curve, TC-Ni, TC-SS, TC-Ni, TCR

Unique flavor modes for milk, fruit, coffee

0.1s fire response
Wattage range: 5W – 200W
Voltage range : 0.5V – 8V
Resistance Range: 0.08ohm – 3.0ohm
Temperature Range: 200?–600? or 100?–300?
Multiple operating functions

System lock
Power lock
TC resistance lock
Power curve

Safety features

E-juice protection (nano coating)
Battery protection
High current protection
Pass through protection
Low power protection
Balanced charging system
Overload protection
No load protection
Short circuit protection
Low resistance protection
ESD circuit protection
10 second overpuff protection
Overheat protection
Overcharge protection
Hive Tank
Made from stainless steel
Dimensions: 43,8mm x 24mm
Tank capacity: 3ml (standard glass) or 4ml (bulb style)
Mesh coil: AL1B-2 0.14ohm±0.03 (50-90W)

Massive vapor and flavor
Longevity

Dual bottom adjustable air inlets
Artery Hive Pictures
Total Views Today: 1 Total Views: 462