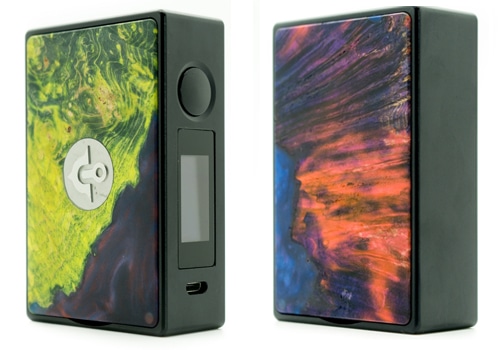 Here are cheap deals for the Asmodus EOS 180W Stabilized Wood Touch Screen Box Mod.
Overview
Here's yet another collaboration between Ultroner and Asmodus. The EOS Box Mod is made from 6063 aluminum making it lightweight and also portable. With two stabilized wood panels, that have color options of blue, green, purple or red, the appearance is quite luxurious and is sure to turn heads. The panels are magnetic, so you may swap them out for a new look and one of the plates also hides the battery bay that stores the dual 18650 cells (not included) that power the EOS.
On the control face, you will see a capacitive touch screen that allows menu operation simply by touching icons on the display. More details on the screen, such as informatoin about the menu and vape data, have not been released. But, since it has the same chip board as the Minikin V2, we may assume that the menu system will also be identical.
On the technical level, this mod utilizes a GX-180-UT chip board which allows it to operate in power, curve, temperature control with all types of heating elements, TCR mode for custom resistance settings and TFR more for use with hybrid builds. The highest output during variable wattage operation is 180 watts and 120 watts in temperature mode. The maximum temperature in variable temperature modes is 572 degrees Fahrenheit. In all modes, the lowest resistance capability is 0.1ohm, the peak output current 45A and the maximum voltage is 7.5V. The chipset allows for future firmware upgrades board via the micro USB port . This USB interface is also used by the DC 5V/1A charging system to top off the cells while they are in the EOS Mod. You don't need an external charger!
Total Views Today: 1 Total Views: 488