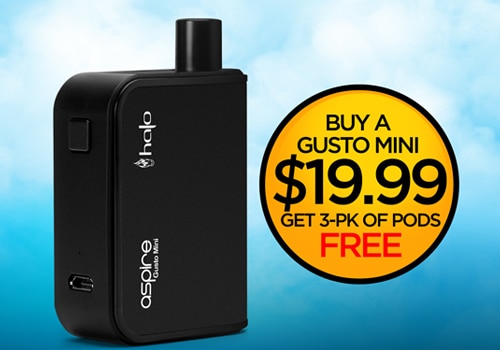 Here are cheap deals for the Aspire Gusto Mini Starter Kit w/ 1 Pre-Filled Halo Juice Pod.
Overview
The Gusto Mini is a collaboration between Aspire and Halo. This all-in-one vape system features 17 watts of power, 4.2ml juice pods with 1.5ohm coils, multiple safety features and a 900mAh built in battery with LED and onboard charging.
This small setup is portable thanks to dimensions of just 70mm x 47.5mm x 22mm and is avaiable in black. It uses 4.2ml capacity juice pods that are pre-filled with Halo e-liquid, but cannot be refilled. Available flavors include Halo's popular Tribeca and Subzero juices with 6mg or 12mg nic options. Inside the juice cartridges, which connect to the battery via an effortless plug & play gold plated connection, you will find a 1.5ohm atomizer. The integrated battery in this kit has a 900mAh capacity for decent vaping times at 17 watts of power. An LED battery light allows easy tracking of the cell's charge level and a micro USB port allows for charging. To ensure safety, this unit has both overheat and short circuit protection built into its operating system.
With purchase of the Gusto Mini, you will also get three free pre-filled juice pods, two mouthpieces, a micro USB charging cable, a manual and a warranty card.
Total Views Today: 1 Total Views: 2,130