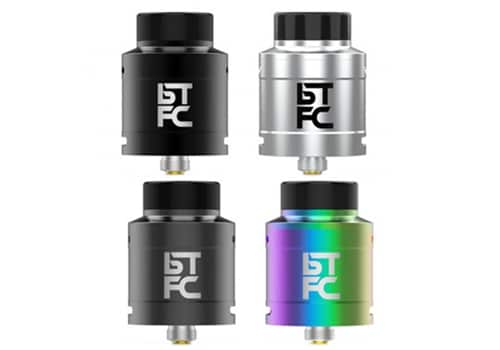 Update: The
Augvape BTFC RDA
Has Been Discontinued – Check  Newer RDA Deals Below
Here are cheap deals for the Augvape BTFC RDA.  This tank is the result of a partnership between Vapnfagan and Augvape. It features an exquisite dual post build deck with internal airflow inside the posts, external adjustable airflow a squonk ready design, single/dual coil compatibility, a deep juice well and an 810 Delrin drip tip.
Overview
The Augvape BTFC meausres 25mm x 33mm, includes an 810 Delrin wide bore drip tip (510 adapter included) and is made from stainless steel. The appearance of the BTFC looks exquisite thanks to black, gun metal, rainbow and silver finishes and a modern BTFC logo engraving. At the bottom of the RDA, you will find a BF 510 threaded connection for use with your favorite squonker, but you may also add juice via a threaded top fill system.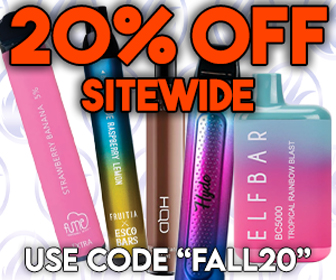 Underneath the chuff cap, you will see a dual post build deck that is spacious for easily working with intricate or large builds. The deck is compatibile with single and dual coils and wire is held in place via Allen Hex screws. Peek insulation is also used to prevent overheating and assure durability. Airflow intake into the Augvape BTFC occurs via dual adjustable inlets that direct air via air tunnels to the internal air holes that are integrated into each post.
BTFC Features & Specifications
Result of partnership with VapnFagan
Dimensions: 25mm x 33mm
Made from stainless steel
Colors: black, gun metal, rainbow, silver
Threaded top fill system or squonk
Dual post build deck

Spacious
Dual/single coil compatibility
Deep juice well
Internal airflow is integrated into posts
PEEK insulation
Top Allen Hex screws

Dual adjustable external airflow
810 Delrin widebore drip tip
Total Views Today: 1 Total Views: 85