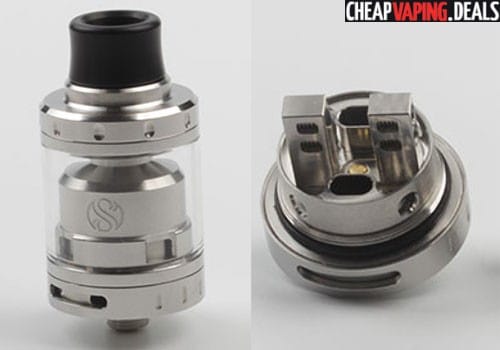 Check out this cheap price for the Augvape Merlin Mini RTA.  This RTA won't be sent out until December, but you may as well pick one up now as the price is surely going to increase.
Overview
The Augvape Merlin Mini is the small version of the very popular regular-sized Merlin RTA.  It features a 2ml tank reservoir and both a single and dual post deck.
The RTA is constructed from 304 stainless steel with glass tank and features a "shorty" form factor with dimensions of 24mm and just 42.3mm in height. The tank has a capacity of 2ml and is easily refilled via a convenient top fill system.  Airflow is adjustable with  3mm x 5mm square air intakes.
With purchase, you'll get two alternate decks that both measure 18mm across.  The first is a single coil deck with dual post setup that comes pre-installed and includes 2mm x 1.5mm airflow inserts.  This deck is built with 2mm x 2mm squared post holes, 4.5mm internal air holes and 3mm x 4mm juice holes.  The second included deck is a velocity style dual coil deck with 2mm x 2.5mm terminals and 3mm juice holes.  Both decks feature peak insulation and gold plated brass contacts.
Very little is still known about this RTA and the specs seem to vary from site to site.  But if it's anything like the regular Augvape Merlin, this is bound to be an versatile mini RTA and is bound to be popular.
Features & Specifications
Measurments: 24mm x 42.3mm
304 stainless steel with glass materials
Tank capacity: 2ml
Single and dual coil decks included
18mm diameter single coil deck with 2mm x 2mm wire holes
18mm dimater dual coil deck with 2mm x 2.5mm wire holes
2mm & 1.5mm airflow inserts for single coil deck
3mm x 5mm adjustable airflow slots
Peek insulation
Gold plated brass contacts
Pictures
Video Review
Not available
Total Views Today: 1 Total Views: 20,155