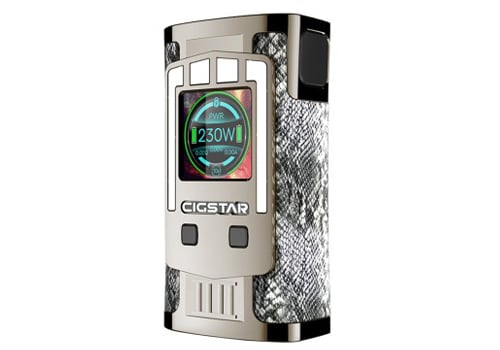 Here's a cheap deal for the Cigstar Greek Temple Box Mod. Right now, the price seems high but we will be posting better prices very soon as the product is released.
Overview
The Cigstar Greek Temple Box Mod features a temple theme, 8 color LED lights, a full color display, dual 18650 compatibility, 230 watts of output and V80 chip board for stable performance with versatile temperature control.
From a design perspective, the mod is compact due to dimensions of 82.5mm x 41.5mm x 40.5mm and adopts a Pantheon Temple Theme for an eye catching appearance. Available in black and white, the side panels looks to have either a carbon fiber or snake skin pattern. On the front of the unit, there's a 1.3 inch full color display with two battery bars surrounding the wattage/temperature indicator. Additional vape data includes current mode, puff counts, voltage, resistance and more. Surrounding the screen, you will see LED lights that, combined, form the façade of a temple.  The LEDs light up when the mod fires and can be set up to up to 8 alternate colors via the menu system. At the top, you will see a 510 threaded connector, but it is uncertain what size atomizers it is compatible with.
On the technology level, the Greek Temple also does not disappoint thanks to the latest V80 chipset. Available modes include power, TCR, temperature control with nickel, titanium, stainless steel and temperature curve. The maximum power is 230 watts, the minimum resistance is a decent 0.1ohm and the highest temperature is 315 Celsius.  To power up, the Cigstar Greek Temple uses two 18650 cells that should be accessible at the bottom via an effortless flip battery door and can be recharged via a fast side micro USB port.
Cigstar Greek Temple Features & Specifications
Dimensions: 82.5mm x 41.5mm x 40.5mm
Construction materials: unknown
Colors: white, black
Temple logo on bottom front
Side fire button
510 threaded connection
Full color display

Size: 1.3″
Clear concise menu system

8 light LEDs surrounds the screen

Light up during mod fire
Set to 8 colors via settings menu
Look like façade of a Greek temple

Works with two 18650 batteries

Bottom hinged battery door
Fast micro USB charging

V80 chipset
Operating modes: Power/TC-Ni/TC-Ti/TC-SS/TCR/C-T
Power output range: 10W to 230W
Temperature range: 200℉ to 600℉ or 93℃ to 315℃
Output voltage range: 6.4 to 8.4V
Resistance range power mode: 0.10Ω to 3.0Ω
Included:

Cigstar Greek Temple
Micro USB  charging cable
Manual
Total Views Today: 1 Total Views: 27