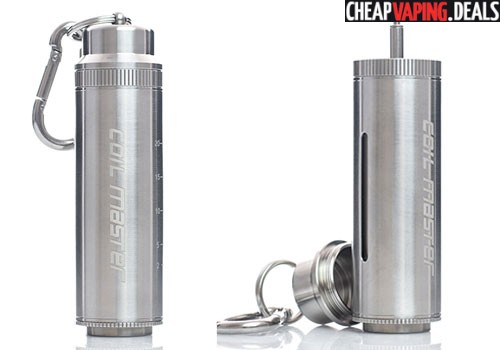 Here's some fantastic deals on the Coil Master SEB 20ML E-Juice Bottle.
Overview
The Coil Master SEB is a 20ml bottle that delivers e-liquid to your tank or build using a press button with adjustable juice flow rate.   This unit features sold construction, an adjustable e-juice delivery system, a leak proof design and ensures e-liquid remains pure.
The SEB's chassis is made from stainless steel with polycarbonate on the inside to keep e-liquid fresh and pure.  It was designed to be completely leak proof, making it an excellent refill bottle to take with you while on the go.
E-juice can be squirted from the bottle using a button press that delivers up to 1.25ml at a time.  The flow rate can easily be reduced and can be completely closed off by turning the ridged adjustment ring.  This allows for precise e-juice delivery to your tank or build.
The tip is built with a spring loaded mechanism and is long enough to allow for easy insertion in your atomizer's fill port. The tip is said to work well with any PG/VG ratio juice including ones that are high in VG.
On the side of the SEB, there's indicators for the current e-juice level with a range from 2ml to 20ml.
Video
Features & Specs.
Dimensions: 26mm x 91.6mm
Stainless steel exterior
Polycarbonate interior
E-liquid capacity: 20ml
Adjustable e-juice delivery up to 1.25ml
Springloaded press button
Close off completely
Precision tip
Carabiner top
Total Views Today: 1 Total Views: 69