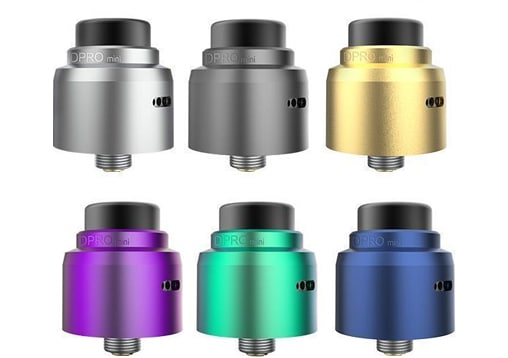 Here are cheap deals for the Coilart DPRO Mini RDA.  This rebuildable dripping tank atomizer features a single coil postless build deck, honeycomb style airflow holes (internal & external) and included short, curved & mouth-to-lung drip tips and two BF 510 connection pins.
Overview
Obtainable in green, purple, red, blue, gold, gun metal, black or silver, the DPRO Mini RDA is made from stainless steel and is small with dimensions of 22mm x23mm. External airflow to the deck comes from two air slots that are built with 3 honeycomb air holes each that are fully adjustable. At the bottom, you will see a 510 threaded BF connection pin and an extra one is also included with purchase.
Additionally, there are three different drip tips included with purchase. The 5mm short drip tip is best used with small coils, the 8mm length 510 curved drip tip is recommended for big builds, while the 13mm 510 drip tip was designed specifically for mouth to lung vaping.
Under the chuff cap, you will find a single coil compatible postless build deck and a 3mm deep juice well underneath. Three internal air holes on each side of the deck ensure massive vapor and flavor production. At the base of the deck, you will find two wire terminals that measure 3mm x 4mm each. Wire is held inside these holes by way of side mounted hex screws.
DPRO Mini RDA Features & Specifications
Measurements: 22mm x 23mm
Made from SUS314 SS
Color options: SS, black, gun metal, blue, gold, purple, red, green
Two BF 510 pins included
Single coil postless deck

Deep juice well
Dual wire terminals
2 x 3 internal honeycomb air holes
Hex screws

Included drip tips

5mm short 510 drip tip best for small coils
8mm  510 curve drip tip best for big coils
13mm 510 MTL drip tip best for MTL style
Total Views Today: 1 Total Views: 42