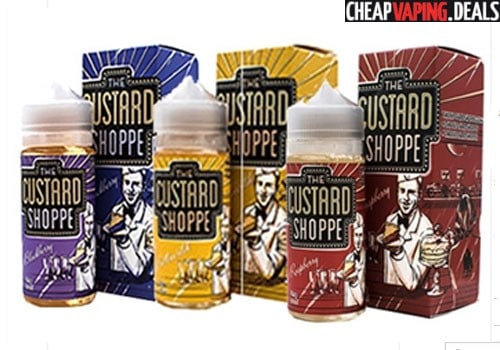 Here's a discount for The Custard Shoppe E-Liquid by Jam Monster Juice.  This e-juice retails elsewhere for $30 per 100ml so check out the $12.99 deal below!
The Custard Shoppe e-liquid is a brand new line from Jam Monster Juice.  The company is well known for making one-of-a-kind products and this new juice is said to be an excellent all day vape. Each order of Custard Shoppe will arrive in a special gift box and the 75/25 PG/VG e-juice will be contained in a 100ml Chubby Gorilla Bottle.  If you love vaping custard, get your fix by buying one of the blends listed below.
Available flavors:
Butterscotch: This flavor combines butterscotch and custard with amazing results.  The flavor is complex — but balanced — and will taste like a butterscotch custard pie.
Raspberry: This blend will taste almost exactly like a delicious raspberry custard pie and the flavor will last all day long.
Blackberry: Blackberry custard pies have a unique taste and this e-juice is no exception.
Total Views Today: 1 Total Views: 176