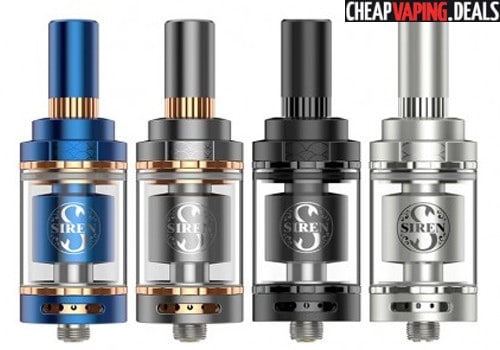 Check out these discounts for the Digiflavor Siren 2 GTA.
Overview
The Siren 2 GTA was made specifically for mouth to lung vaping and is said to provide a cigar smoking experience.  Moreover, the device produces amazing flavors, 9 airflow adjustments, a large coil build deck and easy wicking.  You may purchase the device in blue, stainless steel, gunmetal or black.
The upgraded Siren 2 measures 22mm x 41.5mm, has a drip tip height of 20mm and a tank capacity of 2ml that is built with a top fill system to add juice.  Compared to its predecessor, the unit offers more precise mouth to lung vaping, features an upgraded build deck that can handle large coils with easy cotton installation, does not have the annoying whistling sound of the previous unit, no longer features turbulent airflow and includes two alternate drip tip options (Delrin and SS510).
Other differences on the Siren V2 is that the airflow is adjustable at the bottom with 9 different settings for a really customizable vape.  And, the chamber is also closer to the drip tip to ensure the most flavor possible.
Features & Specs
Mouth-to-lung vaping

Cigar-like experience
Intense flavor production

 Materials

Stainless steel
Pyrex glass

Dimensions: 22mm x 41.5mm
Colors: black, gunmetal, stainless steel, blue
Drip tip

Height: 22mm
Delrin drip tip included
Stainless steel drip tip included

Top fill system
2ml tank capacity
Dual adjustable airflow intakes

9 alternate airflow settings
Chamber near drip tip for additional flavor production
Whistling sound eliminated
Turbulent airflow eliminated

Upgraded larger build deck

Easy wicking
Compatible with large builds
Pictures
Total Views Today: 1 Total Views: 4,136