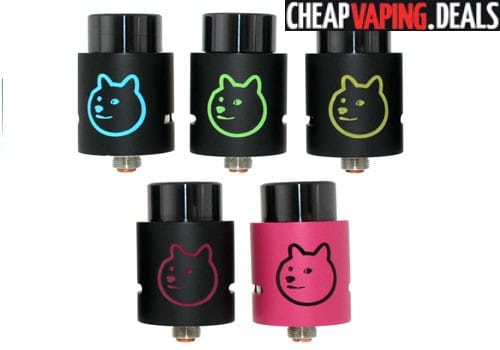 Check out this blowout for the Doge V3 (Dog3) RDA by Congrevape
Overview
The DOG3 is the latest RDA in the sought-after line  of rebuildable atomizers in the Doge platform.  This device continues the incredible design and amazing vapor production found in its previous  versions.   This RDA is available in black, hot pink, pink, green, blue, yellow or matte black.
The Dog3 features an 11mm drip tip which is made from black ceramic and has a shiny finish.  To keep your lips from burning or inhaling plastic fumes, the tip was designed to withstand extreme heat.
The RDA also features a brand new airflow delivery mechanism.  The airflow is now optimized to hit the coil directly and changing airflow control is now done on the build deck's outer rim.   As a result, the build deck has an extra 2.4mm of space over older Dog RDA versions.  And, each airslot now has dimensions of 2.5mm x 10mm  which results in optimum air intake to the tip.
Just as the DogeV2, the Doge 3 features a high quality Key System and Peek insulator.  And, the post size has been restructured and made smaller to allow a wider array of coil styles and configurations.  There's also an option to build with 3 or 4 posts.   The depth of the juice well on the Dog3 has also been increased to 9mm.
Overall, this Dog3 is a high quality RDA with a beautiful design that is said to perform amazingly.  With purchase, you will also receive extra screws, a center post, insulators, o-rings and screw drivers.
Features
Diameter: 22mm
Made of stainless steel
Congrevape ceramic tip
11mm removable black ceramic tip with high heat resistance
Adjustable 10mm x 2.5mm dual airflow
Enlarged top cap
Increased build space over previous models
Removable Positive Post Build Deck
Square Japanese PEEK Insulators
Deeper 9mm juice well (double over Doge V2)
Copper screws, posts and contacts
Many colors available
Video Review
https://www.youtube.com/watch?v=CZNsVw7pvhQ
Total Views Today: 1 Total Views: 60