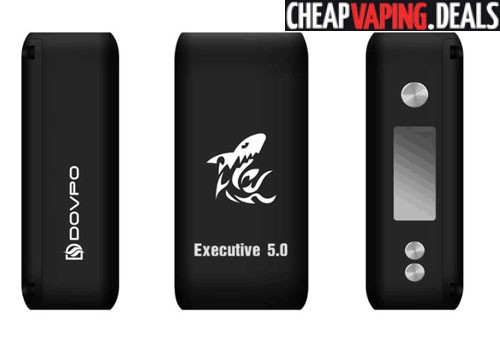 Don't miss out on this deal for the new Dovpo Excutive 5.0 TC 50W Box Mod .  You can get one now for just $38.91, plus free shipping.
$99.99

$38.91   + Free Shipping
When you first see the Dovpo Executive 5.0, it looks different from other box mods in its class.  It looks taller than other devices and has soft edges.  It is constructed of Zinc alloy, so you know it has longevity.  Its rubber finish feels good in the palm of the hand.  Plus, it's small which means it's portable.  Just put it in your pocket.
This vaporizer is made with the latest microchip that allows you to control it in either wattage or temperature control mode.  The Executive is a 50 Watt box mod with a temperature range from 200 to 600 degrees Fahrenheit.    To guarantee the correct temperature of the coil, the Executive 5.0 will adjust the output wattage. This stops the coil from overheating and being damaged due to excessive temperature.
To use it in TC mode, you will need a nickel 200 (Ni200) coil.  With a nickel coil head, it can fire atomizers with resistance as low as .1 Ohm. The Executive 5.0 also has to ability to detect the coil type you are using when set to temperature control.
The Executive takes one 18650 external battery.  When the battery level is too low to maximize output wattage, the mod will optimize the wattage levels.
Overall, the Dovpo Executive 5.0 Mod is modern, both technologically and design wise.  A powerful and portable device…
Features
Voltage: 3.2 Volts to 4.2 Volts
Highest Current: 23 Amps
Wattage: 1 Watt  to 50 Watts
Temperature  Control Mode
Ni200 coil resistance: 0.1 Ohm to 1 Ohm
Kanthal coil resistance: 0.1 Ohm to 3 Ohms
Protections: low voltage, short circuit, overtime, overheat, battery reversal and low voltage
Power-off memory function
Using 18650 battery
Charging time ranges from 3 to 5 hours
Visit the homepage of the Dovpo Excutive 5.0 Box Mod
Video Review
Additional Dovpo Box Mod Prices
Total Views Today: 1 Total Views: 770