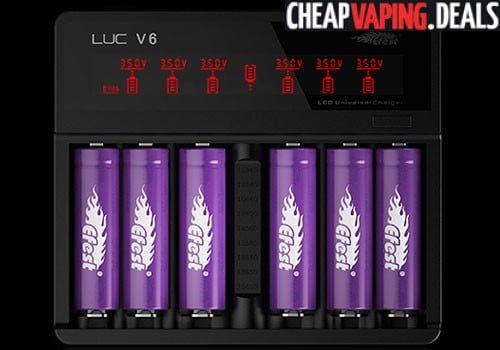 A cheap price just posted on the Efest Luc V6 6-Bay Charger.  Don't confuse this item  with the LUC Blu6 6 Bay Charger.
US Shipper: $21.75  Fast Shipping!
Overview
The Luc V6 by Efest is a 6 bay lithium ion battery charger. It can charge all types and sizes of lithium batteries, from 10440 thru 26650, and can also be used as a power bank for other USB devices such as tablets or smart phones.  This charger supports 18500, 18650, 26500, 26650 batteries and many more.
The Luc V6 is very easy to use.  Simply insert a battery into one of it's 6 bays and the device will intelligently select the necessary method to charge a particular battery.   The V6 smartly detects each individual battery's charge level, select the correct voltage,  choose a charge mode and stop charging when the battery voltage reaches 100%.   There's also built-in reverse polarity protection in case batteries are inserted the wrong way.  The unit also sports other safety features such as over-discharging, over-voltage and short circuit protections.
What really sets this charger apart  is that each of the 6 battery bays has its own individual LCD indicator screen. It displays current charge level, charging current and current voltage of each battery.
The Luc V6 is  also made from high quality materials for durability.  All vital components, including tabs and springs, are constructed from stainless steel which ensures longevity and guarantees the device will never fracture.
Video Review
Features & Specs
Input: AC 100V-240V 50/60Hz or DC 12V 2A
Output: 4.2V +/-.05V
Output Current: 0.68A x 6 channels or 2A x 2 channels
USB Output: 5.0-5.5V 1A
Smart lithium ion battery charger
Digital LCD screen for each bay
Works with battery sizes ranging from 10440 to 26650, including 18500, 18650, 26500, 26650
USB output to charge smart phones and tablets
Auto-detects voltage
Intelligent charge mode
Overcharge prevention
Reverse polarity protection
Short circuit protection
Over discharge protection
Over voltage protection
Pictures