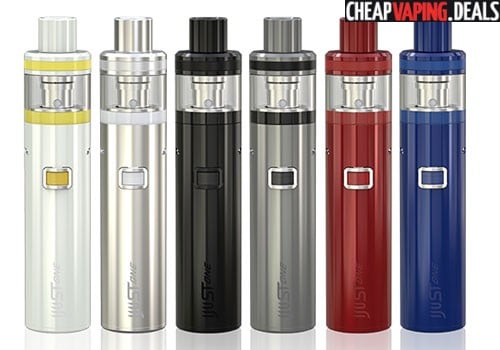 Check out this cheap price for the Eleaf Ijust One Starter Kit.
Overview
The iJust One from Eleaf is an all-in-one vape starter kit.  It features a tiny form factor, a tube mod, 2ml tank reservoir and a built-in 1100mAh battery.
This setup is very compact with dimensions of just 22mm x 103mm.  This makes it the perfect portable device to store in your purse or pocket.  The kit looks fashionable and is available in a wide range of colors including white, black, blue, grey, red and silver.
At the bottom of this all-in-one setup, you will see a 1100mAh capacity tube mod that is chargeable via the USB port under the firing button.  The  mod is an unregulated device so ouput will depend solely on the internal cell's voltage.  After a full charge, the battery tube will put out 50 watts of maximum power.  The unit is also capable of working with low resistance atomizers all the way down to 0.15ohm.  Battery life can be monitored via the LED that surrounds the fire button.  If the light stays lit, your battery level is above 60%, while more frequent flashing indicates it's time to plug the unit in.  The LED's color matches the color of the setup further adding to the amazing design of this setup.  Double circuit protection results in amazing safety features while using this mod.  These include overcharge, over current and over discharge protections.
The Ijust One kit is completely integrated, so the tank is not removable.  It features a 2ml e-liquid capacity and a top fill system for conveniently adding e-juice.  Six airflow intakes are located at the bottom and are not adjustablable.  Instead, the EC sleeve adapter throttles airflow automatically.   Included, you'll also get a standard 510 drip tip that is built with Delrin materials for heat resistance.
The coils used with the Ijust One atomizer have two alternate options.  First, there's the GS Air Coil that is a mouth-to-lung head that fires between 8 and 25 watts and with a resistance of 0.75ohm.  Or, you can install the direct-to-lung Kanthal EC coil which fires from 30 to 80 watts at a resistance of 0.3ohm.
Video
Features & Specs
Dimensions: 22mm x 103mm
Tiny and portable bundle
MTL and DTL vaping
Unregulated mod
Internal 1100mAh capacity cell
USB charging
Maximum power output with full battery: 50 watts
Resistance range: 0.15Ω to 3.0Ω ohm
4.2V DC Output
LED battery life indicator matches colorway
Safety features: over-discharge, over-current, over-charge protections
Tank is not removable
Airflow via EC sleeve adapter
Six airflow intakes
2ml e-juice capacity'
Top fill system
GS Air coil head: 0.75Ω / 8W to 25W / Organic cotton
ECr coil head: 0.3Ω / 30W to 80W
Delrin 510 drip tip
Pictures