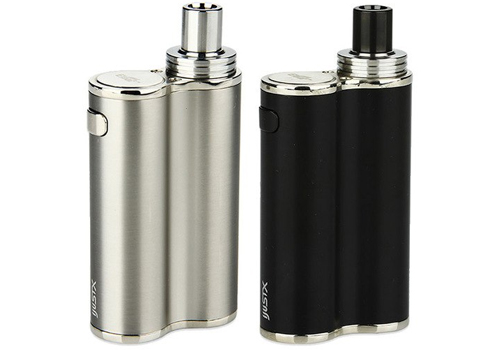 Here's a fantastic price for the Eleaf Ijust X Starter Kit.
Overview
The Eleaf Ijust X  is a brand new vape system that features an integrated mod and tank design.  With this starter kit, frequent charging and refill interruptions are preventable thanks to an internal e-liquid reservoir that can hold a massive 7ml and a built-in battery that has a whopping 3000mAh capacity.
The all-in-one setup is small with measurements of just 50.7mm x 25,7mm x 101mm, including the drip tip.  Available in black or silver, the entire structure can be disassembled for easy cleaning and maintenance.  The form factor was designed with ergonomics in mind, so the device is bound to fit comfortably in the hand and easy to carry.
If you see the Ijust X, you will find that the design consists of two metal tubes: one contains the internal e-juice tank and the other holds the battery.  The tank can hold up to 7ml of e-liquid, reducing frequent refills and a leak-proof top fill system makes the process effortless.  The internal battery has a 3000mAh capacity for longer vaping times. An LED on the side is used for detecting current battery levels with frequent flashing indicating its time to plug the mod in for charging via the USB port near the top side.  When fired, the Eleaf Ijust X has a resistance range of 0.15 to 3.0Ω and a maximum power output of 50 watts.
Safety features are also built into the Ijust X Starter Kit with a circuit protection system on both the software and hardware levels to protect from over-charging/discharging and over-current.
Popular EC coils are used with this kit to allow for decent vapor production and vape flavors.  To swap out the coil, you conveniently unscrew the bottom base to remove the old head and conveniently install a new coil.
Review
Features & Specifications
All-in-one vape system
Easy to use
Unregulated mod
Dimensions: 50.7mm x 25,7mm x 101mm
Weight: 204g
Colors: silver, black
Streamlined double-tube design
Internal tank with massive 7ml capacity
Easy top fill system by removing top
Leak-free
Utilizes EC coils, installed from the bottom
3000mAh batter easily sustains maximum 50W output over time
Micro USB charging port
Resistance range: 0.15Ω to 3.0Ω
Battery life LED indicator
Dual circuit protection against over-current, over-discharging and over-charging
Gallery
Similar Deals
Total Views Today: 1 Total Views: 249