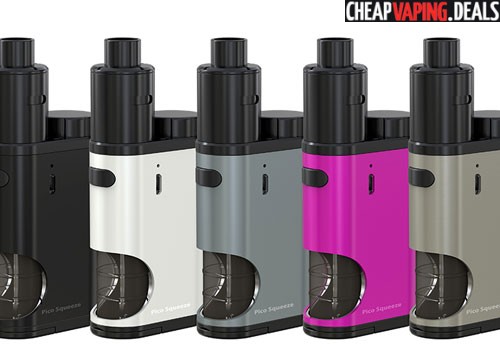 Here's low priced deals on the Pico Squeeze Squonk Box Mod with Coral RDA.
Overview
The mod and RDA have combined measurements of 46mm x 23mm x 102.5mm, so it is a very compact setup.  The mod features a squonk system which means e-liquid is transported to the Coral RDA by squeezing the internal juice bottle from the outside.  The internal tank can hold up to a massive 6.5ml of e-juice for long vaping time, is removed via a hinged cap at the bottom for refills and is transparent for easy monitoring of the tank's e-liquid levels.
The mechanical mod features a 510 threaded connection at the top and the fire button is located on the side.  With a full battery, the maximum output of the device is and the device can fire atomizers with a resistance as low as 0.15Ω.  To sustain 50 watts for extended periods. a single 18650 cell is used which is easily accessed and swapped out by unscrewing the battery cap at the top.  The Pico Squeeze can also be charged by plugging in its 1A USB port into any computer or wall adapter.  For battery durability and to achieve optimal charging level, it is always advised to top off the cell with an external charger.  Reverse polarity protection on both the circuit board and on the software level will prevent a problem in case you insert the battery the wrong way.
The Coral features an open deck for easy installation and building of your DIY coils.  There's pre-made Clapton coils included with purchase which are said to provide good vapor and flavor production.  Airflow on the RDA can be adjusted by rotating the mouth piece.  For huge vapor, simply rotate it to fully open.
The entire Pico Squeeze kit is also easily disassembled for convenient maintenance and cleaning.
Features
Pico Squeeze Squonk Mod and Coral Squonk RDA
Dimensions: 46mm x 23mm x 102.5mm
Many colors
510 threaded connection
Direct voltage output
Constructed from aluminum alloy and stainless steel
Highest output wattage with full battery: 50W
Resistance range: 0.15Ω-3.5Ω
Humongous 6.5ml internal tank
Easy tank removal for refills
Reverse polarity protection
Uses one 18650 battery
Micro-USB charging
Pre-made Clapton coils
Adjustable airflow
Video
Pictures