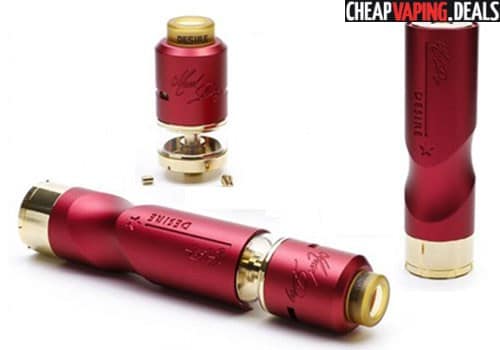 Update: The
Encom Desire Mad Dog RDTA Kit
Has Been Discontinued – Check  Newer Mod  Deals Below
Overview
The Desire Mad Dog RDTA Kit is a new mechanical setup from Encom.  It includes a single 18650 powered unregulated mod and a rebuildable dripping tank that features a huge 7ml tank capacity, side airflow and is compatible with both dual and single builds.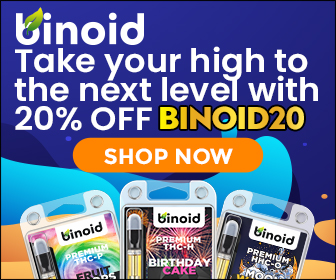 At this time, the kit is only available in red, with gold accents on both the drip tip, the deck, the base and fire button to provide an exquisite look.  The battery has parameters of 24mm x 89mm while the RDTA measures 24mm x 43mm.  The entire kit uses aeronautical materials for longevity and an amazing look.
A tank reservoir on the Mad Dog RDTA can hold a massive 7ml of e-juice to prevent frequent refills. The deck is built with 304 gold plating for maximum conduction and is compatible with single or dual coil builds, while the base is insulated and features a self-lock mechanism. Airflow is adjustable on the side by rotating the aluminum chuff cap to open/close the two air intakes.
Accessing the single 18650 cell that powers the tube mod on the Desire Mad Dog RDTA Kit is performed by unscrewing the the battery cap at the bottom. It also doubles as the fire button for direct connection to the battery. Because this is a mechanical mod, it should only be used by those who have experience working with unregulated setups.
Features & Specs
Kit dimensions: 24mm x 1332mm
Colors: red with gold
Aeronautical materials
Tank capacity: 7ml
Exquisite design
Insulated base
Self-lock function
304 gold plated deck
Works with dual/single coil builds
510 connection
Side adjustable air slots
Powered by single 18650 cell
Threaded battery cap/fire button
Direct battery connection
Pictures
Total Views Today: 1 Total Views: 126