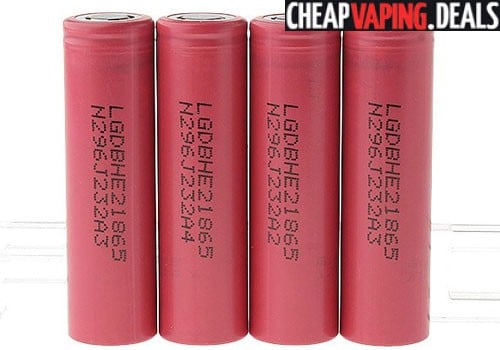 Here's a great deal on authentic LG 18650 HE2 3.7V 2500mAh Rechargeable Li-ion Batteries.
Overview
These LG HE2 2500 mAh batteries stand way above the rest of the vape battery field because of their massive capacity.   This is due to the fact that they are actually hybrid battery cells.
While there may be some dispute about this battery's maximum continuous discharge, its 35A pulse rating is not as important as its 20A continuous rating.  The latter really  is the important specification.  Overall, these are said to be excellent vape batteries that should work fine with pretty much every sub ohm setup.
Features & Specs
Brand: LG
Type: rechargeable 18650 Li-Ion batteries
Dimensions: 18mm x 65mm x 18mm
Weight: 45g
2500 mAh battery capacity
Maximum voltage:  4.35 V
Minimum voltage: 2.75V
Rated voltage: 3.6 to 3.7 V
Internal resistance: 40mohm
Life cycle: recharge over 1000 times
Video Review