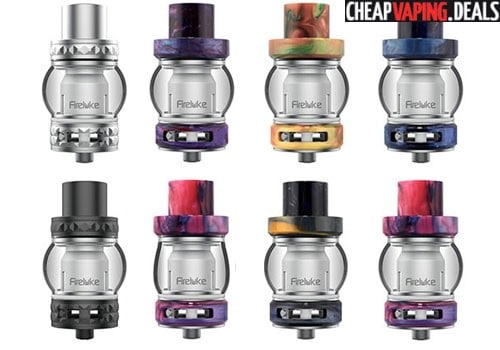 Here's fantastic deals on the Freemax Fire Luke Tank.  
Overview
The Fire Luke is the latest sub ohm tank from Freemax and also comes with an RBA head.  The device features a fashionable bowl design, a wide range of colors including Resin, huge airflow and a high power coil system.
Design-wise, the Fire Luke Tank has dimensions of 58.4mm x 25mm and is constructed from just stainless steel or with resin finish.  The atomizer looks fashionable and has a glass-like design. Several finish options/colors are available. There's two stainless steel only versions that you can may purchase in silver or black. Or, you could one with resin finish with several color options: red, yellow, blue, green, purple or black.
What really sets the Freemax Fire Luke apart from similar devices is that it utilizes high wattage coils and also includes an RTA deck.  Included with purchase, you'll receive a 0.15ohm Duodennary coil that fires in the range of 80 watts to 180 watts.  Or, you can choose the option that includes the sextuple 0.15ohm head that should be used in the range of 60W to 140W.  All coils are made with 100% Japanese organic cotton for healthy vaping, will last longer than the average coil and should produce massive vapor with plenty of flavor.  You will also receive an RBA head to use the tank as an RTA.
Depending on the coil used, the tank can hold either 4ml or 5ml of e-juice.  Adding juice is done via a top fill system to ensure a seamless process.
Airflow to the coils is massive to ensure massive vapor and to personalize your vape experience. The size of the airflow slots is adjustable via the bottom AFC ring.
Video Review
Features & Specs.
Measurements: 58.4mm x 25.0mm
Made from stainless steel
Several Resin version with different colors
Fashionable design
Huge airflow control system
4ml/5ml tank capacity
Top fill system
Adjustable 510 pin
Option 1: 0.15Ω duodennary SS coil rated 80W to 180W & RTA coil
Option 2: 0.15Ω duodennary SS coil rated 60W to 140W & RTA coil
Huge vapor production
Good flavors
Japanese organic cotton
Long-lasting coils
Voltage range: 3.2V to 4.2V
Pictures