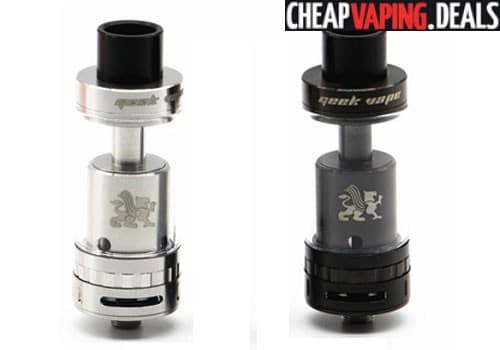 Here's an awesome price on an authentic 3.5ml Geekvape Griffin RTA Sub Tank.
Overview
The Geekvape Griffin RTA is a rebuildable 3.5ml tank which feature the largest deck in its class and is topfill.  It comes with a replacement tube tank, a big hole drip tip, a 510 drip tip adapter, spare parts, o-rings and post screws.
The Griffin has a 3.5ml tank capacity.  It's features topfill technology so it's never been easier to add e-liquid.  Simply rotate the juice flow control on the bottom of the device and remove the top fill cap to reveal the large fill ports.
The RTA sports a two post Velocity style  build deck with four 2mm post holes. To accommodate larger builds, clapton builds or 3mm diameter builds, the deck is somewhat larger than your standard deck found in RTAs like the OBS Crius.  The build deck can also be removed from the tank section and you don't even need to empty the tank to do so.
Overall, the Griffin RTA is said to put out massive vape clouds and the larger velocity deck makes building a breeze.
Features
Dimensions 0.86″ x 0.86″ x 1.91″ or 2.2cm x 2.2cm x 4.85 cm
Weight: 0.110 kg
Tank capacity: 3.5ml
Body made of quality stainless steel
Pyrex glass tank tube
7mm wide chimney
Delrin drip tip
Adjustable gold plated 510 pin
Easy topfill thru large juice ports
Dual adjustable airflow control
Large 16.1mm Velocity-style deck to accommodate wide range of builds
2mm post holes
Remove build deck without emptying tank
Video  Review
https://www.youtube.com/watch?v=JJU3H_Rx6Zg
Total Views Today: 1 Total Views: 6