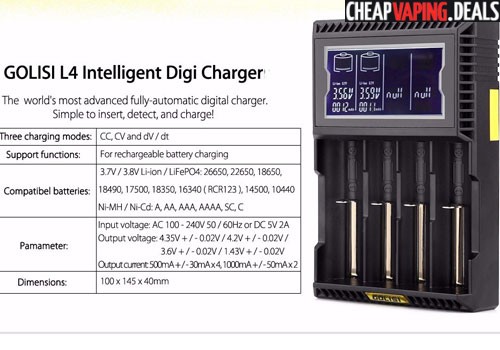 Check out these low prices for the GOLISI L4 Intelligent Digi Charger.
Overview
The Golisi L4 Digicharger is an affordable four bay charger that will easily top off your 26650, 18650 or other vape battery.  With this unit, all you have to do is insert the batteries and the device will do the rest.
The L4 supports virtually any battery in the marketplace and automatically detects Li-ion, Ni-MH and Ni-CD batteries.  Via manual input, the device can also charge other battery types.
The intelligent circuit board that is built into the device allows for automatic selection of the best charging method: either CC, CV or dV/DT.   A micro computer that monitors each bay ensures this is done for each inserted cell.
At the top of the Golisi L4, there's bright LCD screen that indicates battery capacity, charging progress, voltage and whether or not charging has been completed.
Features & Specifications
Made from fire retardant/flame resistant ABS
Stainless steel rail
Works worldwide
Auto-detects Li-ion, Ni-MH and Ni-Cd rechargeable batteries
4 battery slots
Each battery slot is monitored and charged independently
Works with 3.7V / 3.8V Li-ion / LiFePO4
Will charge 26650, 22650, 18650, 18490, 17500, 18350, 16340, 14500, 10440 ) & Ni-MH / Ni-Cd ( A, AA, AAA, AAAA, SC, C)
Microcomputer controlled charging process for each bay
CC / CV / Trickle charging to make sure the battery is fully charged
Overcharge protection
Bright LCD with battery type, voltage, charging capacity and  progress
Easy selection of specific battery types and charging parameters
Uses negative voltage control to make charging more eefficient
Short circuit protection
Reverse polarity protection
Over charge protection
Stops charging when complete
Input voltage: AC 100 – 240V 50 / 60Hz or DC 5V 2A
Output voltage: 4.35V + / – 0.02V / 4.2V + / – 0.02V / 3.6V + / – 0.02V / 1.43V + / – 0.02V
Output current: 500mA + / – 30mA x 4, 1000mA + / – 50mA x 2
Pictures