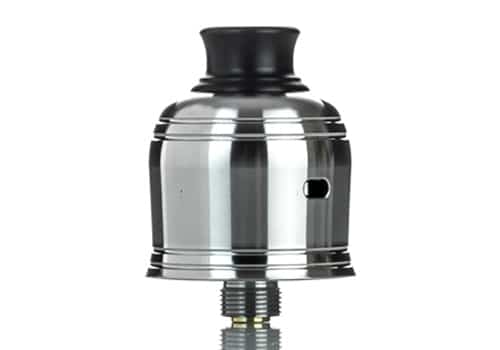 Here are cheap deals for the Hotcig Castle BF RDA.
Overview
The Hotcig Castle has a 22mm diameter, is compact and is made from stainless steel. The device comes with both a white ULTEM drip cap and a stainless steel top cap. At the bottom of the RDA, you will find a bottom feed 510 connection pin to install the Castle on your favorite squonk mod, but a standard pin is also in the package. At the top, there's an 8mm wide 510 Delrin drip tip that will prevent burning of the lips. Airflow is adjustable at the bottom and occurs via 3mm air slots that can be fully closed.
Underneath the chuff cap, you will find a single post build deck that works with both dual and single coil builds. The wire holes measure 2mm x 1mm and are kept in place via flat head screws. Peek insulation is used and a 4mm deep juice well prevents the necessity of frequent dripping. In addition to two top caps, you will also receive a bag of spare parts and a standard gold plated 510 connection pin.
Total Views Today: 1 Total Views: 175