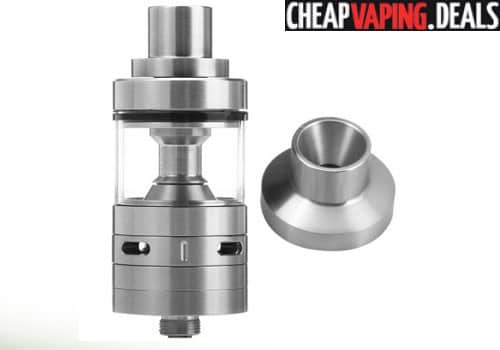 An awesome deal just posted on the Hotcig Train Vape RDTA.  Although not shown in the listing, the $19.05 deal (below) should be the new version with top fill system and wider juice holes.
$19.05 & Free Shipping

   Use coupon code

MAP

at checkout
$22.00 & Free Shipping

   
Overview
The Hotcig Train Vape Rebuildable Tank Atomizer is said to produce massive vapor with pure flavors.  It features a portable form factor, easy disassembly, temperature control and a heated e-liquid tank to keep ejuice fresh.  It can be used as an RDA or RTA.
The RDTA's chassis is constructed from 316 stainless steel for longevity and wear resistance.  The tank tube is made from glass and has a 3ml capacity.  The RTA can be turned into a RDA by using the RDA top cap.
The Train Vape is compatible with both single and multi-coil setups.  Compared to similar devices, it is quite easy to build coils on. The RDTA features both adjustable airflow via 4 holes on bottom,  and liquid control.  The 510 pin protrudes and is adjustable to be used with  hybrid mods.
Overall, you simply can't go wrong with purchasing the Train Vape RDTA as you get both an RDA & RTA for the same price.  From seeing reviews online, it looks like using it as an RDA is an incredible experience.  And, at this price, it's a steal.
Features & Specs.
Chassis constructed from 316 stainless steel
Glass tank
Base diameter: 22mm
Tank capacity: 3ml
RDA top cap
Use as either RDA or RTA
Dual posts for single coil build
Adjustable AFC with 4 holes on bottom
510 threaded connectionwith adjustable brass center screw
Removable 510 drip tip
Video Review
https://www.youtube.com/watch?v=Ik87oLhd2Lk
Total Views Today: 1 Total Views: 15