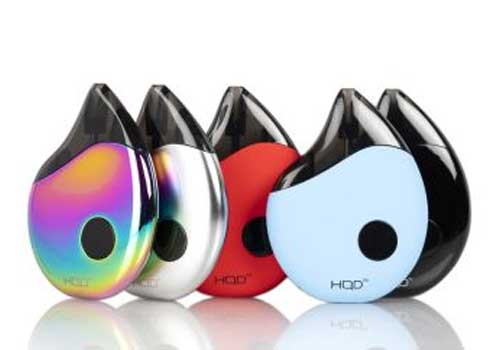 Here are cheap deals for the HQD Comma Pod Starter Kit.
Overview
The HQD Comma is an all-in-one starter kit that features refillable 2ml pods, air driven activation, a compact design, a 380mAh battery and a battery LED.
The Comma Kit looks quite modern thanks to a water drop appearance. It is a compact and ergonomic kit allowing for easy placement in any pocket and perfect feeling in the hand. The unit is made from zinc alloy and PC materials, further enhancing the stylish look and color options include gun metal, bronze, pearl chrome and rainbow. At the top of the Comma, you will see a pod that also functions as the mouthpiece. It can hold up to 2ml of e-liquid and is easily refilled by removing it to access a fill port.
Inside the pods, there is an atomizer that fires in the range of 20 to 40 watts, making the HQD Comma a perfect AIO vape system for beginners or for those who like vaping on high nicotine and nicotine salt juices. The Comma is also easy to use as there is no fire button. To fire, all you need to do is take a puff and the device will activate. Power to the atomizer is gained by way of a 380mAh internal battery that is recharged via a convenient micro USB port with an included cable. In the HQD Comma package, you will also find one cartridge/pod and a manual.
Total Views Today: 1 Total Views: 182