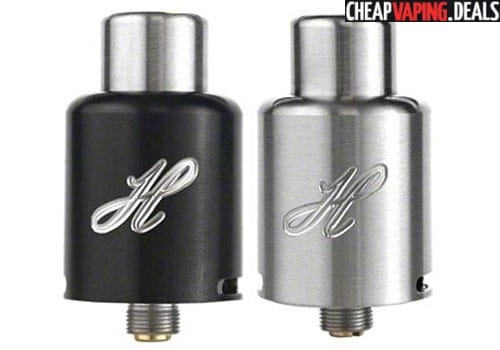 Check out these fantastic deals for an authentic  Hugh RDA by Blitz Enterprises.
Overview
The Hugh is an amazing RDA designed and manufactured by Blitz Enterprizes.  It features incredible flavor production, bottom adjustable airflow, has a 3 post deck and changes colors as you vape.
The RDA has dimensions of 22mm x 26mm and features a splatter design. Both the barrel's main color and splatter changes during use. The bottom of the unit features a protruding, gold plated 510 connection pin for maximum conduction and compatibility with most mods.   The device includes a 510 adapter for use with alternate drip tips as well as a stainless steel and plastic drip tip.
The deck is Velocity style with dual posts that feature two 3mm post holes each for easy building with any wire.   There's also an additional center post that features it's own hole for additional airflow.   The deck features 8 internal airflow holes that are fed from two large external air slots.    Both the positive pin and center post are  PEEK insulated.  The juice  well is deep to prevent the need for continuous dripping.
In addition to the Hugh RDA, you'll also receive extra post screws, spare o-rings and an Allen key.
Features & Specs
Dimensions: 22mm x 26mm
Changes colors while vaping
Adjustable gold plated center pin
Flavor RDA
Dual post Velocity style deck
Dual 3mm terminals on each post
Center post with airflow
2 x 4 internal airflow holes fed by two large external air slots
Deep juice well
PEEK insulation
Video  Review
https://www.youtube.com/watch?v=hyrVovsDDrk