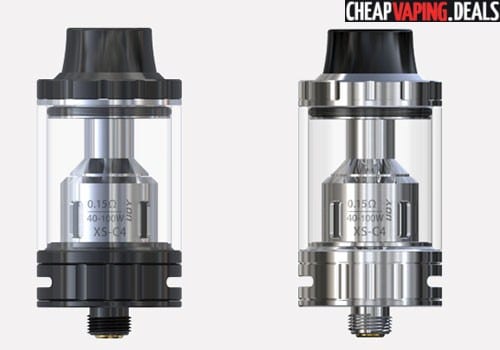 Here's an amazing deal on the Ijoy EXO S Sub Ohm Tank.
Overview
The EXO S is a 22mm diameter portable tank from Ijoy that can be used for either mouth-to-lung or direct-to-lung vaping.  The device is available in either black or silver.
The tank measures 22mm x 47mm and is built with a 3.2ml tank capacity that is refilled via a top rotary fill system.  To add juice, simply unscrew the top cap.  The device is built from stainless steel with Pyrex glass for longevity and durability.  At the bottom, you will see a 24 karat gold plated connection pin for maximum electrical conduction.  Included with purchase, you will receive a standard 510 drip tip.
The EXO S Sub Ohm Tank uses a unique XS coil system.  These available heads include the XS-C1 0.4ohm head that is rated from 40 watts to 80 watts.  Another included coil is the XS-C4 that has a resistance of 0.15ohm and fires in the range of 40 watts to 100 watts.  And for those who enjoy coil building, there's also an optional XS-1 RTA coil.
In combination with bottom adjustable airflow, the EXO S can be used for either direct-to-lung or mouth-to-lung vaping (MTL).  This makes it a perfect atomizer for both beginner vapors and more seasoned ones.  This tank is said to have an improved MTL vaping system and produce decent vapor clouds.
Features & Specifications
Measurements: 47mm x 22mm
Materials: durable stainless steel & heat resistant Pyrex glass
Colors: silver, black
Tank reservoir capacity: 3.2ml
Rotary top refill system
510 drip tip
510 threaded/gold plated connection for convenient installs and voltage drop prevention
Adjustable airflow control ring at bottom
Enhanced MTL vaping for beginners
Excellent DTL vaping
Adequate vapor production
Included: Pre-built XS-C1 coil (40W to 80W / 0.4Ω)
Included: Pre-built XS-C4 coil (40W to 100W / 0.15Ω)
Optional RBA Head: XS-1 RTA for single coil builds
Disassemble completely for maintenance
Spare tank
Extra O-rings
Video Review
Pictures