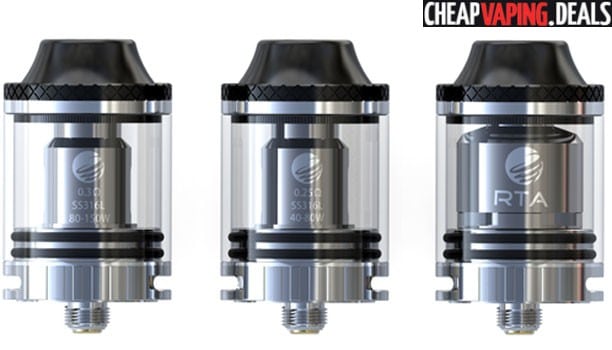 Check out these deals on the IJoy Tornado 150 Tank & RTA. 
Overview
The Ijoy Tornado 150 is a brand new tank  that fires up to 150 watts and features a brand new coil design and includes an RBA deck for building fanatics. It is very affordable, yet it is said to produce massive vapor and excellent flavors.  It is available in black or silver.
The tank measures 25mm in width and 44mm in height and is made from stainless steel and glass. The tank capacity is adequate at 4.2ml with a convenient top fill system.  Included with purchase, you'll receive a Delrin top cap that is wide for massive airflow.  Airflow is adjustable at the buttom via large air intake slots.
The Tornado 150 utlizes a premade coil that is designed to replace the chamber allowing for additional airflow.  With purchase,  you'll get two coils: the first is a 0.3Ω head that is rated from 80W to 150W.  Or, you can use the include 0.25Ω coil that has a recommended wattage of 40 to 80W. There's also an RBA in the package, for those who enjoy coil building.
Overall, if you enjoy high wattage vaping, the Tornado 150 may be exactly what you are looking for. And, the price makes it a no-brainer.
Features & Specs
Very affordable high wattage tank
Dimensions: 25mm x 44mm
Weight: 80g
Constructed from stainless steel and glass
Tank capacity: 4.2ml
Convenient top fill setup
Coil and chimney all-in-one for additional air
Wide bore Delrin chuff cap
RTA head included
Two pre-built coils included
Pictures
Video Review
Not available
Total Views Today: 1 Total Views: 19