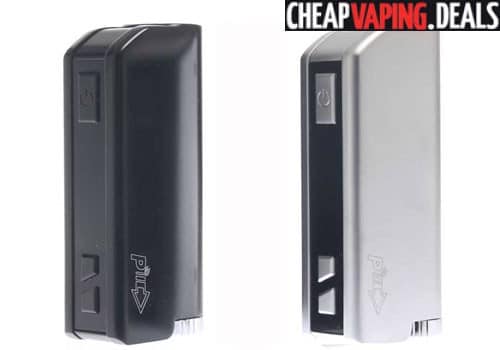 Here's a great deal on an authentic Pioneer4You IPV Mini 2 70W Box Mod .  
$109.99

$49.49

   Use coupon code 

eca10

at checkout
$109.99

$39.75 & Free Shipping

   
Overview
The IPV Mini 2 is the upgraded version of its predecessor with an increased power output from 30W to 70W.  This is a compact and powerful mod which features a Yihi SX3330V2i chip board.  As a result, the mod can fire and regulate much more power in a compact body.
Compared to the original IPV Mini, the IPV Mini 2 is capable of providing accurate resistance statistics of the installed atomizer or tank.   Because the device is half the size and weight of most box mods, it is perfect to take out with you on your night out.  But don't let its small size full you!  With a reasonable 70W of output power and resistance as low as 0.2Ω, the mod is compatible with virtually every atomizer or sub ohm tank in stores.
The IPV Mini 2 is powered by one external 18650 battery which is hidden behind an easy to remove battery door to make swapping batteries a breeze.  The unit can also be charged via the USB port which is very convenient and you won't need to purchase a separate charger.   The Mini 2 has amazing battery safety features as well and the box mod is designed to contain any battery fires in the unlikely event they happen.
The side of the IPV Mini 2 features a mirrored screen which only lights up when the power button is pressed.  The last 5 settings are always saved in the menu so you can easily keep track and access your favorite settings for individual atomizers. To adjust wattage, simply press the up and down buttons.
The top of the Mini 2 features a universal 510 connection with a floating  pin to make sure all atties sit level on the device.
Overall, if you are looking for a compact box mod that has a respectable output wattage, the IPV Mini 2 may be the perfect box mod for you.
Features
Dimensions: 3-3/4″ x 1-9/16″ x  7/8″
Portable yet powerful
510 Threaded Connection
Accurate atomizer reading with YiHi SX330V2C chip
Floating center pin
Rersistance range: 0.2Ω to 3.0Ω
Variable wattage range: 5.0W to 70W
Output voltage range: 3.6V to 8.5V
Utilizes one 18650 battery
Easy battery door
USB charging
Mirrored screen with easy menu
Monitor temperature
Many safety features: short circuit, low resistance, reverse polarity, high input wattage and low voltage protections
Video Review
Total Views Today: 1 Total Views: 641