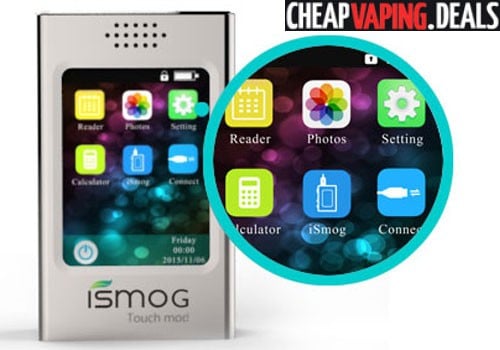 Here's a great deal on a touch screen box mod: the ISmog Touch Mod 75W Box Mod.
$89.99

 $59.99

   
Overview
The iSmog is one of the first smart devices which features innovative touch technology on a vaping box mod.  With touch & smart control, patented technology, a custom iOS and 2GB of FT memory, it is on the cutting edge of new vaping technology.
The mod is quite light and feels comfortable in the hand.  The side of the device features a clicky fire button and a pin hole for venting.  On the bottom of the unit, there's the USB port for charging/connecting to PC,  as well as additional vent holes to keep the mod cool.  At the top of the device, you will find a brass 510 connector which is gold plated for maximum electrical conductivity, but is not adjustable.
The iSmog is built with a very powerful 32bit arm Contex-M CPU to support the touch technology.  The 2GB of internal read-only memory ensures the device will run much faster than similar touch box mods in the marketplace.  The mod features an adequate output of 75W and can be powered in either variable wattage or temperature control mode.  The temperature range is 200°F to 600°F and the minimum resistance is 0.2Ω, making it compatible with most atomizers, sub tanks and builds in the marketplace.
What really sets the mod apart is its touchable LCD screen which has a similar layout to what you would find on any smart phone.  It is very easy to control the display's user-friendly menu with simple gestures.  On the menu, you can see the battery level, adjust settings, change wallpaper and there's a calculator, a reader and an icon to connect the unit to your pc.
If you touch the settings icon, you can easily adjust the backlight, time, date, language, wallpaper and get the device status & system info.
Tapping the iSmog icon opens a menu which displays puff time and resistance.  Here is where you set the working mode, see puff statistics for the last 30 days, lock/unlock the device, set the temperature/wattage and overtime.
The iSmog touch mod is powered by an internal 4500 mAh lithium battery which charges at 0.8 amps and takes about 2 to 3 hours to achieve a full charge.  Simply plug the mod into any wall outlet or your PC with the included USB cable and you're good to go.
Overall, the iSmog Touch looks like a state-of-the-art box mod.  While its performance has not been thoroughly tested, it might be an amazing mod and its touchable LCD display is sure to turn heads.
See the iSmog box mod on its homepage
Features & Specs.
Dimensions: 50mm x 82mm x 24mm
2.4 inch touchable LCD screen with 320 x 240 resolution
Custom WeVape OS 1.0
510 threaded connection
Working modes: variable temperature and variable wattage
Power output range: 5W to 75W
Temperature range: 200°F to 600°F or 100°C to 300°C
Resistance range: 0.2Ω to 3.0Ω
Powered by internal 4500mAh polymer lithium battery
Vaping memory
Vape statistics
USB charging
Change background
Use as reader
2GB of memory can be utilized as U-disk
Video Review
Total Views Today: 1 Total Views: 30