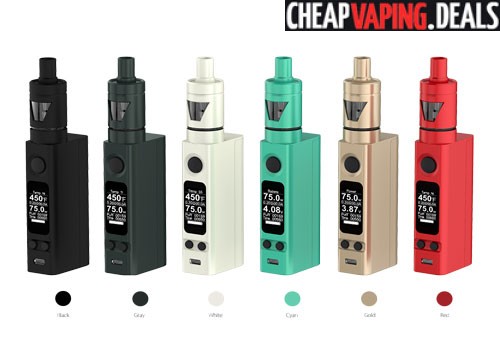 Here's an amazing deal on the the brand new Joyetech eVic-VTC Mini V2 75W Full Kit.
Update: This Mini Kit is completely sold out everywhere.  Please check out other Mini Mods & Kits as an alternative
Overview
This kit  includes both the eVic VTC and a Tron atomizer. Together, they make for a powerful and portable combination that will certainly satisfy all your vaping needs.
The kit is available in several colors: black, white, gray, red, gold and cyan.  You will receive one eVic VTC Mini with V2.0 firmware pre-installed, one Tron atomizer, one 10mm x 20mm mouth piece, 1 CL 1.0 coil, 1 eGo one CL-Ni coil, 1 eGo One CL-Ti Coil, a USB cable, a warranty card and a USB cable for charging.
The new firmware features an increased output wattage from 65 to 75 watts from its predecessor, temperature control on nickel, titanium & stainless steel coils and a new menu.   The updated menu now displays the following information: power & bypass, temperature or wattage, current resistance, wattage or voltage output, vape puff time, puff count, battery level and temperature mode.
The Tron atomizer has an amazing design. Concealed airflow control results in a unique, cool look and it vapes really well.  There's both a top and side view of the e-liquid.
This eVic VTC Mini firmware upgrade is said to result in denser and hotter vape clouds.  If that's what you like, get one today!
More information on the Joyetech VTC Mini V2 with Tron atomizer
Features & Specifications
eVic VTC Mini
eVic VTC Mini dimensions: 22.20mm x 38.20mm x 82.00mm
Newly Added with VT-SS Mode
Modes: Variable temperature (nickel & titanium), variable wattage, bypass
Output power: 1 to 75 watts
Resistance: 0.05Ω to 1.0Ω in variable temperature mode
Temperature range: from 100℃ to 315℃ or  200℉ to 600℉
USB charging
Tron Atomizer
Dimensions: 22mm x 56.6mm
4ml e-liquid capacity
Many colors available
Firmware V2.0
Four silicon ring colors available to decorate atomizer.
Concealed airflow
Review
https://www.youtube.com/watch?v=xe081AhTugk
Total Views Today: 1 Total Views: 56