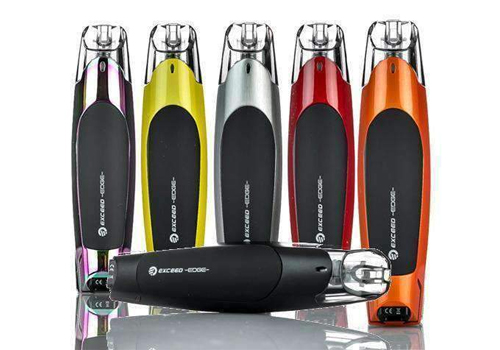 Here are cheap deals for the Joyetech Exceed Edge Pod System Starter Kit.
Overview
The Exceed Edge Pod System is Joyetech's first starter kit that utilizes vape pods. Each cartridge doubles as the mouthpiece and connects inside the Exceed Edge Mod via a proprietary connection. The pods are refillable and can hold up to 2ml of e-liquid which is actually quite good for a system that is not subohm. Within the pod, you will find a 1.2ohm atomizer that provides a mouth-to-lung style vape experience, provides flavorful vapor and is ideal for high nicotine juices as well as nictonine salt based juices, even with 50mg nicotine strength. Unlike similar pod style kits in the marketplace, the coil can be purchased separately, so you don't have to buy an entirely new mouthpiece/pod when it burns out.
For power, this vape system has a built-in battery that is recharged via an easily accessed micro USB port with a USB cable which can be found in the package. The battery has a very decent 650mAh capacity, so you should be able to use it all day without any necessary recharges. There's an LED on the tail that not only looks good, but also indicates when a recharge is needed.
Design-wise, the theme looks to be sports car inspired and silver, red, orange, yellow and rainbow color options. The Joyetech Exceed Edge also has a very compact size and is leak proof thanks to its streamlined structure, so you may feel safe storing it in your pocket or purse.
With purchase, you will get the Exceed Edge, two 1.2ohm atomizer heads, 2 silocone rings, a micro USB charging cable, a manual and a warranty card.
Total Views Today: 1 Total Views: 327