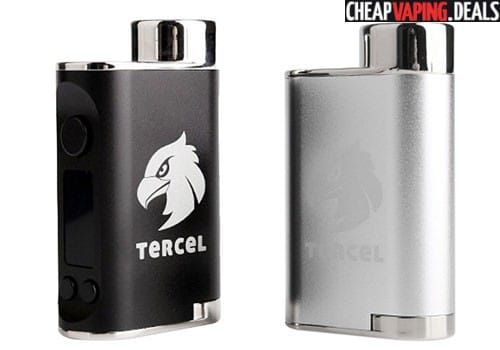 Check out these deals on the Kamry Tercel 70W TC Box Mod. 
Overview
The Kamry Tercel mod was designed for portability. Although it is a tiny box mod, it still features accurate temperature control and up to 70 watts of power.
The mod is made from zinc alloy and is tiny as it measures only 22mm x 76mm x 47mm.  In many respects, the device looks very similar to the iStick Pico mod which became quite popular because it was portable, durable, but still featured the best technology.
The Tercel uses a single 18650 battery which is accessed via a convenient screwed cap at the bottom.  Unfortunately, the mod can only be charged externally, so if you don't have a charger, you may have to purchase one.
To use atomizers, builds or tanks you simply screw them into the 510 threaded connection at the top which is springloaded for flush installs.  It is uncertain what width of atomizer bezel is, but it should accommodate up to 22mm.
What really sets this mini mod apart from others is that it can fire tanks or atomizers down to 0.08ohm which is quite low.  The power output range from 5W to 70W also seems adequate and temperature is changeable from 200°F to 600°F.
Features & Specs
Dimensions: 22mm x 76mm x 47mm
Mini mod: tiny
Very light: 92g
Zinc alloy materials
OLED screen
510 connection, threaded
Power output range: 5W to 70w
Voltage outut range:  3.2V to 4.2V
Temperature control: 200°F to 600°F or 100°C to 300°C
Minimum resistance: 0.08Ω
Uses single 18650 cell
Convenient screwed battery cap
Pictures
Video Review
Not available