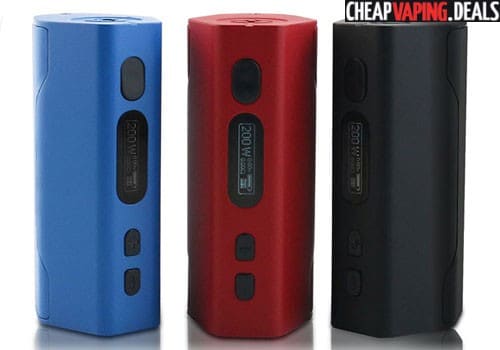 Here's a great deal on the brand new Kangside 230W TC Box Mod with YiHi SX340 chip.
Overview
The Kangside 230W is a brand new box mod from KSD that features massive power and is powered by a  Yihi SX340 chip board.  Yihi chips are known throughout the vaping industry as being reliable and providing accurate power and temperature control.
At first glance, the KSD 230W looks very similar to the Reuleaux RX200 due to its shape and dimensions.  It is constructed from aluminum alloy and is available in red, blue or black.  On the mod's control face, you will find black fire/adjustment buttons and an OLED screen which displays battery level, mode, wattage, voltage and resistance.  From the screen, you may also input your favorite setting in any of the five memory slots.  At the top of the unit, you will find a springloaded 510 threaded connector to make the device compatible with the majority of atomizers.
Unlike the RX,  the KSD 230W is powered by a Yihi chip. As a result, the mod is capable of firing atomizers in the range of 10W to 230W or 10J to 100J.  The device features accurate temperature control from 212°F to 572°F. Variable temperature modes are compatible with both nickel and titanium coil heads.  The lowest atomizer resistance is unavailable, but this newer Yihi chip will certainly allow for very low resistance vaping such as 0.05Ω or even less.
The mod is powered by three external 18650 batteries which are hidden behind a convenient magnetic battery cover. It is uncertain whether the device features onboard charging as different sites contradict themselves.  On Alibaba, it is stated that the USB port is only used for future firmware upgrades, but on FastTech they claim the unit charges via USB.   So, if you don't have an external charger, with at least three bays, perhaps you shouldn't get this mod.
Overall, it remains to be seen if this box mod can be as popular and work as well as the RX200.  But, with a high quality Yihi chip board, this Kangside KSD 230W TC box mod certainly deserves a chance.
Features & Specs
Dimensions: 42mm x 100mm x 52mm
Weight: 150 g
Power range: 10W-230W
Temperature control range: 100°C-300°C or 212°F-572°F
5 times click to turn ON/OFF
Aluminum alloy construction
510 threaded connection
Powered by three 18650 external batteries
Micro-USB charging port (?)
Firmware upgrades
Video Review
Not available
Total Views Today: 1 Total Views: 17