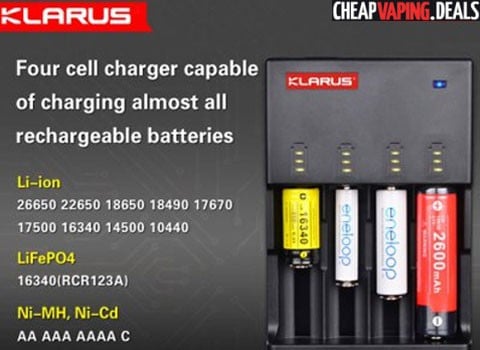 Here's a fantastic deal on the Klarus C4 Battery Charger.
Overview
The Klarus C4 is an intelligent charger that is compatible with all of your Li-Ion, NiMh and NICd rechargeable batteries.  If you are looking for an affordable device to top off your 18650 or 26650 vape batteries, the  Klarus C4 might work just fine.  And,  the C4 can be utilized as a power bank for any of your USB devices such as your smart phone or tablet.
The design of the Klarus looks very similar to Nitecore's I4.   The C4 features a compact form factor yet is a powerful way to charge all your batteries.  There's four bay that can charge virtually any popular rechargeable battery.  The device is built with an integrated microcomputer to top off the cells fast and in a safe way while preventing overcharges by monitoring voltage and capacity of each battery.   The device can be used worldwide with either DC or AC, so it is an excellent unit to take with you while on the road.
Each bay has it's own LED indicator that shows charging progress of each inserted battery.   In order to stop batteries from being damaged, the device automatically stops charging when a cell is full.  There's also over-charge protection, reverse polarity protection, short circuit protection and optimum heat dissipation to prevent fires.
Video
Features & Specifications
Dimensions: 138mm x 96mm x 36mm
Made from durable ABS: flame resistant
Li-ion: 26650 22650 18650 18490 17670 17500 16340 14500 10440
Ni-MH, Ni-Cd: AA AAA AAAA C
LiFePO4: 16340(RCR123A)
Microcomputer control system for each slot
Charge 4 batteries simultaneously
Compatible with Ni-MH/Ni-Cd/ 3.7V Li-ion
Four LEDs to show charging progress of each battery
Charging voltage is from AC100V to 240V or DC12V
Can be used worldwide
Charge batteries more fully with built-in -dV/dt Control technology
Reverse polarity and short-circuit protection
Over-charge protection
Automatically stops when battery if fully charged
Activates automatically
Input Voltage: AC 110-240V 50/60Hz DC 12V 1A
Output Voltage / Current:
4.2V±1%V, 375mA x4 750mA x2
3.6V±1%V, 375mA x4 750mA x2
1.48V±1%V, 375mA x4 750mA x2
Optimal working environment: 5%(0°C)-90%(35°C) (fully-laden regular activity)
Storage temperature: 0°C-40°C
Total Views Today: 1 Total Views: 30