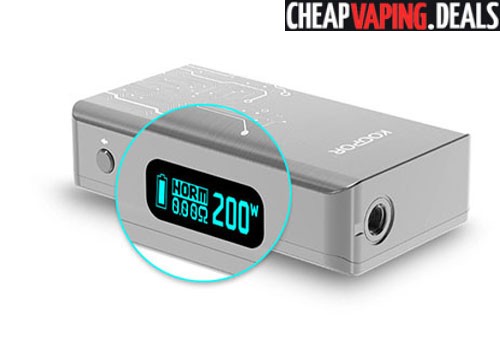 Smok Koopor Plus Box Mod Deal
Don't miss out on this cheap price to get a Koopor Plus 200 Watt.
Update: This Item Is Out Of Stock Everywhere So Check Out The Box Mod Deals Below
Overview
The Koopor Plus is a 200w temperature control box mod which runs on dual 18650 batteries.  It supports stainless steel, nickel and titanium coils and has a spring-loaded 510 connector.  It has the same screen design as the Koopor Mini.  The large OLED displays output, output mode, battery life and resistance.
The Smok Koopor Plus is made of zinc alloy and steel, giving it a beautiful finish.  The design of the box includes vent holes to improve safety, enhance cooling and dissipate heat.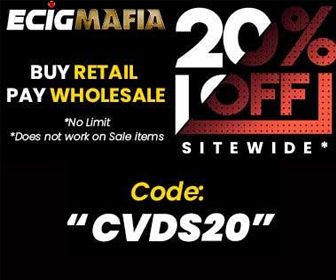 The unit has 3 settings: memory mode, wattage mode and temperature control mode.  In TC mode, the temperature is adjustable from 200 to 600 degrees Fahrenheit and automatically set the type of coil you are firing.  Output wattage is 6 to 200 Watts, making it compatible with most of the atomizers and tanks on the market.  Voltage is adjustable from 6 to 200 Watts.  The Plus can fir atomizers with resistance from 0.10 Ohm to 3.0 Ohm.  The device also features automatic atomizer recognition.
The magnetized battery panel on the back sits flush so changing batteries is easy and there is no rattle.
Features
The Dual Driver System and High-Frequency Dynamic Monitoring Resistance Technology makes temperature control very accurate
200w maximum power
Uses two 18650 batteries: vape all day long
Beautiful design
Easy Sliding magnetic battery door
Large Display
Made of stainless steel and zinc alloy
Wattage: 6w-200w
Voltage: 0.35v-8.00v
Resistance Range: 0.08Ω to 3.00Ω depending on mode
Color: silver only for this deal
More information on the Plus box mod on the Koopor site
Video Review
Total Views Today: 1 Total Views: 240