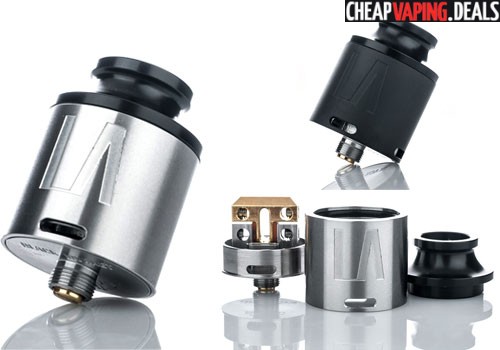 Check out this cheap price for the LA RDA.  
Overview
The LA RDA is the result of cooperation between  Black Market and Aria Built.  Together, these companies have built an efficient RDA that combines a new stacked dual post deck that features a splitter setup to ensure equivalent juice flow to both sides of the deck.
The LA has a clean design and features chemically etched engravings.  The RDA measures 24mm across which results in a 20mm build deck.  It has a dual post setup which is built with a milled negative U-post and a 24 karat gold plated T-Post with two 2.7mm wire terminals each.  On the postive post, you will also find a small air hole for super efficient airflow.
To prevent overheating, the device is built with ULTEM insulation which is even more heat resistant and durable than PEEK insulation.  The juice well is also quite deep with 6mm of height and external airflow intakes are located at the base and features two 2mm x 7mm air slots..  With purchase, you'll get a 12mm wide bore drip tip, a 510 drip tip adapter and two alternate top caps which have an angled design to ensure easy dripping onto the deck.
Features
Diameter: 24mm
Beautiful engraving with clean design
Stacked dual T-post deck with 2.7mm holes
Juice split design: e-juice travels to both sides of the deck
Juice well: 6mm
ULTEM insulation
Dual adjustable external airflow via 7mm x 2mm slots
Elevated dual internal slots
12mm diameter delrin drip top
510 delrin drip tip adapter
Video  Review
Not available
Total Views Today: 1 Total Views: 8