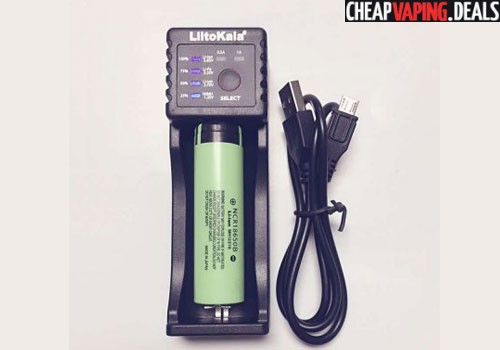 Here's a low price for the LiitoKala Lii-100 Smart Battery Charger.
Overview
If you're looking for an affordable charger that can charge your 18650 vape batteries, perhaps the LiitoKala Lii-100 Universal Charger is the one for you.  The unit is compatible with the following batteries: 18650, 14500, 17670, 10440, 18350, 18490, 16340 and is portable.
The device features one slot that is built with battery management software and is perfect to take with you if traveling.  It can charge your batteries in both cc & cv charge modes and you can select the charging current between 500mAh and 1000mAh.  Four LED indicators above the battery bay will let you know the charging progress from 25 percent to 100 percent.  The charger is also capable of identifying bad batteries and a wide range of safety features include short circuit, reverse polarity, over-discharge and over-charge protections.
Video Review
 Features
LiitoKala Lii-100
Portable
One slot smart charger
Detect battery type
LED indicator for charging progress
USB output for charging USB devices
Micro USB DC 5V input port
CC / CV charge mode
Refresh function for dead battery
Identify bad cells
500mAh or 1000mAh charging current setting
Constant charging with cut-off current under 100mAh
Output voltage: 1000mAh and output voltage is 4.75 – 5.25V
Cut-off voltage for output: 3.0 +/- 0.1V
Standby current: Under 15mAh
Works with: 18650, 14500, 17670, 10440, 18350, 18490, 16340 (RCR123)
Output voltage: DC 4.2V±1%, DC 5V
Power bank output voltage: DC 4.9-5.3V
Total Views Today: 1 Total Views: 7