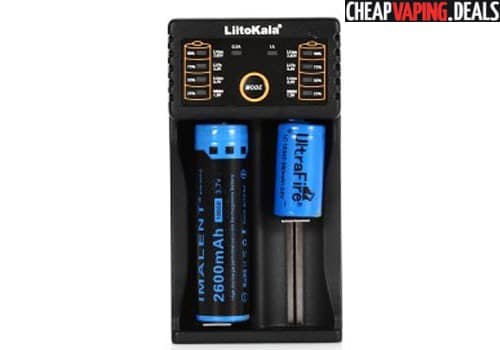 Check out this awesome price for the LiitoKala Lii-202 USB Battery Charger.
Overview
The LiitoKala Lii-202 is an affordable universal battery charger that supports virtually every NiCd, Ni-MH and Li-ion batteries.  If you are looking for a cheap charger, this one will safely top off your 18650, 26650 or other vape batteries.
This dual battery charger is able to automatically read the battery type and will charge the cell using your selected current, either 0.5A or 1A.  The device gets power from its  Micro USB port and a general 5V 1A USB output allows the Lii-202 to be used as a power bank for charging your tablets, smart phones or other USB device.  LED indicators conveniently display battery type and charge levels of each slot.
There's also built-in safety features to prevent fires or other hazards.  These include over-charge protection, over-discharge protection and short circuit protection.
Video Review
Features & Specifications
Highly efficient charging
Auto detect battery type
Two charging currents: 1A or 0.5A
Two powerbank charging modes:  voltage or current
LED indicates battery type and charge levels of each inserted cell
Will identify broken battery cells
oV rechargeable battery activation
Supports Ni-MH and NiCd: A, AA, AAA, SC
Supports Li-ion batteries: 10440, 14500, 16340, 17355, 17500, 17670, 18490, 18650, 22650, 26500, 26650
Input current:2A
Output voltage: 4.35V / 4.20V / 3.65V / 1.48V
Output current: 0.5A / 1A
USB output: 5V, 1A
Pictures