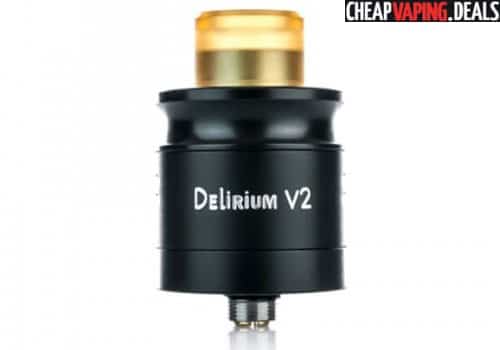 Check out this discounts for the Lost Vape Delirium V2 RDA.
Overview
The Delirium V2 is the latest bottom fed RDA from Lost Vape. It features a squonk center pin, a Velocity style deck, anti-spitback technology and adjustable bottom & side airflow.
This RDA can be used with squonk mods because of it's 24 karat gold plated 510 connection that is hollow to allow e-juice to travel from the mod to the juice well.  A standard 510 pin is also included in case you don't want to use the bottom feed system.  The build deck features dual posts with dual terminals that measure 2mm across and the juice well underneath is 5mm deep.
Airflow intakes are located on both the side and bottom and can be adjusted from fully open to closed. At the bottom, you will see dual air slots that measure 7mm x 3mm, while the side is built with two 9mm x 1mm intakes.  An indexing mid section allows for easy alignment of the coils with the airflow.
A 9mm proprietary drip tip is included with purchase. It features anti-spitback technology to prevent e-juice from entering the mouth.
While the height of this RDA is unknown, the Lost Vape Delirium V2 measures 25mm in diameter and is made from stainless steel.
Video Review
Features & Specs
Diameter: 25mm
Made from stainless steel
Dual post deck
Dual 2mm terminals per post
Juice well: 5mm deep
Peek insulation
Versatile because of bottom and side adjustable airflow
Dual side adjustable airflow slots 9mm x 1mm
Dual bottom adjustable airflow slots 7mm x 3mm
Easily align airslots to coils
9mm wide bore drip tip
Anti-spitback system
24K gold plated BF 510 connection
24K gold plated standard 510 connection
Total Views Today: 1 Total Views: 480