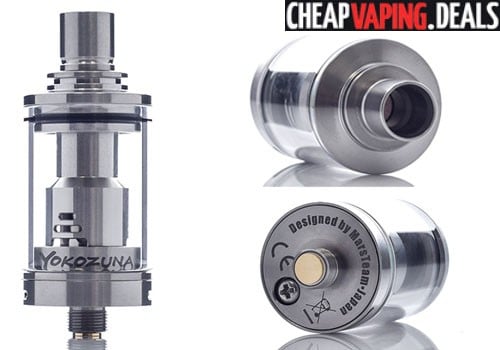 Here's a great deal on the MarsTeam Japan Yokozuna Sub Ohm Tank.  This one is for flavor enthusiasts!
Update: This Item Is Discontinued So Check Out Similar Deals Below
Overview
The Yokozuna Sub Ohm Tank is the first portable tank by Marsteam Japan.  It features simple operation and was made with the purpose of  creating more flavor at mid-wattage vaping.
The Yokozuna has a sleek design in a compact chassis.  Its thick glass tank tube in combination with its curved lines gives it a very clean look.  Its portability limits the tank's capacity at 2.5ml. Refilling the Yokozuna can be done in two ways: you can either use a traditional bottom fill setup or by removing the bottom screw to reveal a more accurate fill port.  The tank tube is held down by a single 0-ring which is easily removed, for faster cleaning.
The tank has many different design characteristics to create a more flavorful and cooler vape.  First, it was made with a slanted chimney which prevents spitback and funnels vapor as it is inhaled.    And, the coils feature a vertical setup, making it perfect for mid-wattage vaping.
The device also features wide open dual airflow control which can be easily adjusted down for a tighter puff.  On the bottom of the Yokozuna, you will find a standard gold plated 510 connection pin, making it compatible with most of the box mods in the marketplace.
Overall, this smaller device makes for a great portable sub ohm tank and will work great with compact box mods that use only a single battery.  And, at lower wattage, this tank's flavor is said to be out of this world.
In addition to the Yokozuna sub ohm tank, you will also receive a 0.3Ω coil rated at 20W to 50W, a pre-installed 0.8Ω coil rated at 15W to 35W and a user manual.
Features & Specs
Dimensions: 22mm x 52.7mm
Weight: 52g
Tank capacity: 2.5ml
Compact & portable
Designed for maximum flavor
Slanted spitback prevention at drip tip
Vertical coil system
0.8Ω coil included
0.3Ω coil included
Triple slotted wicking ports
Dual airflow control
510 gold plated connection pin
Conventional bottom fill setup
Screw bottom fill setup
Video Review
Total Views Today: 1 Total Views: 33