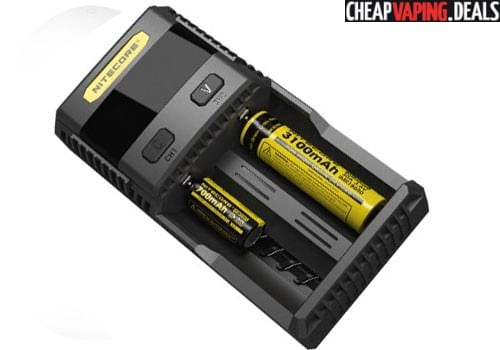 Here's some awesome deals for the new Nitecore SC2 Quick Charger.  This device costs $40 on amazon, so this is a blowout deal!
Overview
If you get annoyed with slow-charging vape batteries, the Nitecore SC2 Intelligent Charger may be the device you've been waiting for.  It features 3 am charging to top off your vape battery cells in no time.
This charger is capable of 3 amp charging so it is the fastest one ever created by Nitecore.   According to the specifications, it can top off 3000 mAh Li-ion batteries in just an hour and a half.  And, it has built-in manual charging system to allow for setting the charging current you prefer.  The SC2 is built with amazing intelligence as it is capable of detecting bad batteries and it stops charging when batteries are done charging.  And, the unit also features state-of-the-art heat dissipation technology for battery longevity, overheat protection to prevent fires, over charging protection, reverse polarity protection, short circuit protection and intelligent temperature regulation.
The software that runs the SC2 is optimized for charging IMR batteries and is compatible with a wide range of battery sizes including 18500, 26650 and 18650 cells which are often used in vape mods.
For easy access to battery status, there are 2 LEDs above each slot that indicate current amperage and voltage for each inserted cell.
Video Review
Features & Specs.
Compatible with LiFePO4,Lithium Ion,Ni-MH,NiCd
Battery types:  10340,10350,10440,10500,12340,12500,12650,13450,13500,13650,14350,14430,14500,14650,16340,(RCR123),16500,16650,17350,17500,17650,17670,18350,18490,18500,18650,18700,20700,21700,22500,22650,25500,26500,26650,AA,AAA,AAAA,C,D
Number
Input Voltage: AC 100~240V 50/60HZ,DC 12V
Output Voltage: 4.35 / 4.2 / 3.7 / 1.48V + / – 1pct, 3A + 2A (max); 5V 2.1A (USB)
Fast 3 amp charging capable
Set manual charging speed to 0.5A, 1A, 2A and 3A
3A charging current in one slot and 5A total current output
Charging program made specifically for IMR batteries
Amazingly  efficient charging
Easily restore depleted IMR cells
Guaranteed safe
Detect non-chargeable batteries
Wide range of safety features
Universal support for fast USB output
Can give up 2.1A high speed charging through its USB output port (smart phones, tablets, etc…)
Charge your vape battery and USB device at the same time
Total Views Today: 1 Total Views: 5