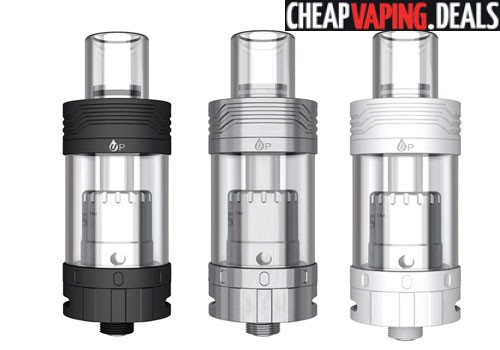 Here's an awesome deal on the brand new OBS Crius RTA Sub Ohm Tank.
Update: This Item Is Out Of Stock Everywhere – Check  Similar Sub Ohm Tank Deals Below
Overview
The Crius Sub Ohm Tank is the latest Rebuildable Tank Atomizer and its OBS' first attempt at delving into the rebuildable market.  It's an RTA with a dual coil build deck. Its design was planned over a long period of time with the purpose of having the best RTA ever.  It was made specifically with the rebuilding enthusiast in mind, not for the novice vaper.
The Crius is made of a stainless steel and a pyrex glass tank.  To fill,  simply lift the top cap to reveal the large side filling port.   Turning the base allows control of the massive airflow holes, as well as opening/closing the juice channels for wicking.  
You can purchase one in black, white and stainless steel.  When you receive it, you will get a Crius, manual, a glass-style drip tip, a screw driver, spare glass, silicone ring, cotton, wire, o-rings, wrapped coils and extra screws.
This Crius is said to vape fantastically.  The device has plenty of holes for effective wicking and flavor is right on target.  And it won't leak.
Find out more about the Crius on the OBS website
Features
510 thread
Unique top side fill design
Made of 304 stainless steel and pyrex glass
Smooth threading and AFC structure
Large adjustable airflow holes
Easy e-liquid flow control
Can use with 100%VG to 100%PG e-liquid.
Easy disassemble and cleaning
Simple to rebuild
Dual Coil
Large deck
Tank size: 4.2ml
Kanthal wire
Japanese organic cotton
Video Review
https://www.youtube.com/watch?v=IXjJ3ro1fXA
Total Views Today: 1 Total Views: 11