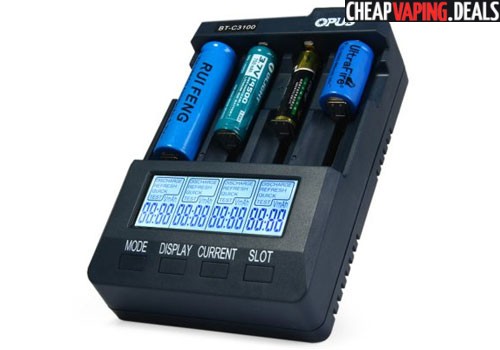 Check out this fantastic price for the Opus BT C3100 V2.2 Charger.
Overview
The Opus BT C3100 is a universal battery charger that features four bays and is capable of charging all your Li-ion batteries include common vape cells such as the 18500, 18650 and 26650. With version 2.2, this unit has a new LED display with a back light which allows statistics to be clearly shown in dark environments
The charger features four slots and will check the actual battery capacity for each inserted battery to ensure the proper charging method is used.  It's like having four chargers in one.  An LED backlight display also shows charge time, current, capacity and charging voltage for each cell.  In addition, this charge can charge, discharge, refresh and even test the internal resistance of any battery.
You can also choose the charging current from 200mAh all the way up to 2000mAh and the default discharging current is 500mAh.
For safety reasons and battery longevity, The BT C3100 will automatically stop charging when battery levels are optimal and there's an overheat detection system to ensure nothing gets too hot.
This charger will work with AA, AAA, NiCd, NiMH or 3.7V Li-ion cells with sizes of 10440, 14500, 14650, RCR123A (17340), 17500, 17670, 18350, 18500, 18650, 19670 (protected 18650), 25500, 26500 and 26650.
Video  Review
Total Views Today: 1 Total Views: 20