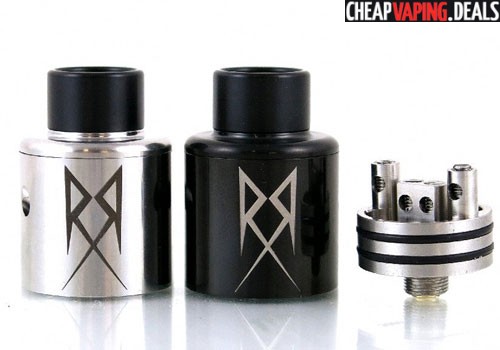 Check out these awesome prices for the Recoil RDA by Grimm Green & Ohm Boy.
Overview
The Recoil RDA is the result of a collaboration between Ohm Boy and Grim Green who are known in the vape industry as being very reputable.  The RDA features a triple post deck that is easy to build on and amazing airflow for massive clouds with lots of flavor.
The RDA  measures 24mm across which allows for the adequate 22mm build-friendly deck that is said to be easy to work with.  The deck is made with triple posts:  two side posts with one 2.5mm hole each and a center post that features 2 x 2.5mm terminals.  The terminals on the two side posts are slightly higher to allow for easier coil installation and the juice well that surrounds the deck is about 7mm deep, preventing a need for constantly dripping juice.
With purchase, you'll receive two alternate top caps that have the same angled air slots.  The Clouds Bro Cap is built with 3mm airholes and should be used for maximum vapor production, while the Flavor Bro Cap features four 2.5mm airholes and results in tasty vape clouds.
Video Review
Features & Specs
Diameter: 24mm
Made from 304 stainless steel
Gold plated/brass 510 connection pin
Peek insulation
Two top caps: flavor or clouds
Angled airflow to prevent leakage
15.1mm wide bore Delrin drip tip
22mm triple post build deck
Triple posts with 4 x 2.5mm post holes
Elevated negative post holes for easy coil installation
Total Views Today: 1 Total Views: 23