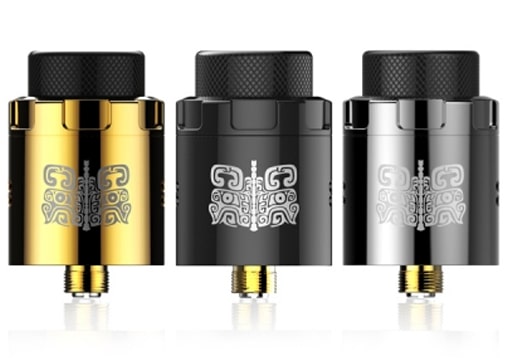 Here are cheap deals for the Serisvape Samo RDA.  This rebuildable dripping atomizer features a BF pin, a dual post deck, stretch shaped deck posts to separate coils, convenient coil installation with big screws, flavorful vapor production, eight adjustable external airflow holes and a 4mm deep juice well.
Overview
The dimensions of the Samo RDA are 24mm x 33mm and it is constructed from stainless steel. The design looks traditional Chinese thanks to a laser engraved beast pattern from bronze wares in ancient China on the chuff cap. The finishes that are available are gold, black and silver. Included with purchase, you will receive an 810 POM drip tip and an 810 Delrin drip tip. Four external air holes are located on each side of the Serisvape Samo and can be opened or closed one-by-one by rotating the chuff cap.
To ensure that separating the coils is as easy as possible, the two posts on the build deck are shaped like stretch pins. Additionally, big screws that hold down the wire ensure that building is simple and convenient. And, to reduce the need for frequent dripping, the juice well is a whopping 4mm deep.
With purchase of the Serisvape Samo BF RDA, you will also receive a POM drip tip, a Delrin drip tip, a bag of accessories and a user manual.
Samo RDA Features & Specifications
Dimensions:  24 x 33mm
Made from 304SS
Color options: gold, black, silver
810 POM drip tip
810 Delrin drip tip
Traditional Chinese "Beast" engraved
510 threaded connection
PEEK insulation with BF
Dual post build deck

Strech pin shaped posts to separate coils
Big screws to tighten Dual posts with big size screws and stretch pin

8 x external adjustable air holes
Total Views Today: 1 Total Views: 10