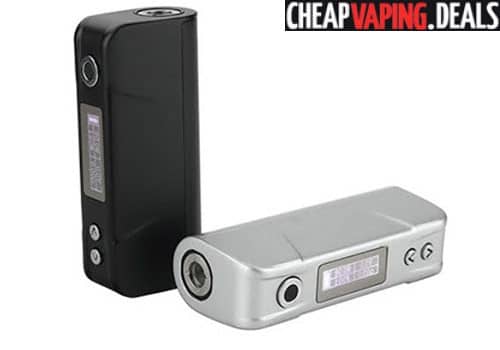 Here's a fantastic deal on the brand new Sigelei Spark 90W TC VW Box Mod.
Overview
The Sigelei Spark is a new 70 watt temperature control & variable wattage box mod.
With dimensions of just 83mm x 37mm x 23mm, the Spark is a very compact device, making it perfect to take with you on your night out.   It is constructed of high quality Zinc alloy which also makes it lightweight.  It looks much the same as Sigelei's Mini Book, with a rounded back to make it ergonomic.
The Spark box mod is portable, but don't let that fool you into thinking it's not a powerful device. It features up to 70W of output power and temperature control ranging from 212°F to 572°F.   And, it can fire atomizers with resistance as low as 0.1Ω, making it possible to power virtually every atty, build or sub ohm tank in the marketplace.   Temperature control is possible with both Nickel and Titanium coils.
The mod is powered by one 18650 battery which is located behind a double magnetic battery door to ensure it never comes loose.  The battery door features an eloquent pattern that has tiny ventilation holes for the purpose of keeping the device cool.
The front of the Spark features a crystal clear OLED screen which displays battery level, wattage, joules, temperature and current resistance.  The menu is easy to navigate and organized for easy use.
Safety features are also not missing from the Spark.  It sports overheat & reverse polarity protection, low resistance & short circuit protection and input high/low voltage protection.
Overall, it looks like the  Spark  is going to be yet another amazing Sigelei box mod.  With plenty of power, accurate temperature control and portability, it may be the perfect box mod to put in your pocket when you leave the house.
Features
Dimension: 83mm x 37mm x 23mm
Weight: 177g
Portable and small, yet powerful
Made of quality zinc alloy
510 connection with stainless steel threading
Power mode range: 10W to 90W
Temperature control range:  212°F to 572°F or 100°C to 300°C
TC modes: nickel and titanium
Resistance range: 0.1Ω to 3.0Ω
Joules range: 10J to 75J
Voltage input range: 3.2V to 4.2V
Voltage output range: 1.0V to 7.5V
OLED screen with easy menu
Powered by one 18650 battery, 25 amps or higher
Maximum current: 30A
Magnetic battery door
Many safety features
Stainless Steel Threadpoints
Zinc Alloy Construction
Video Review
Not available yet
Total Views Today: 1 Total Views: 985