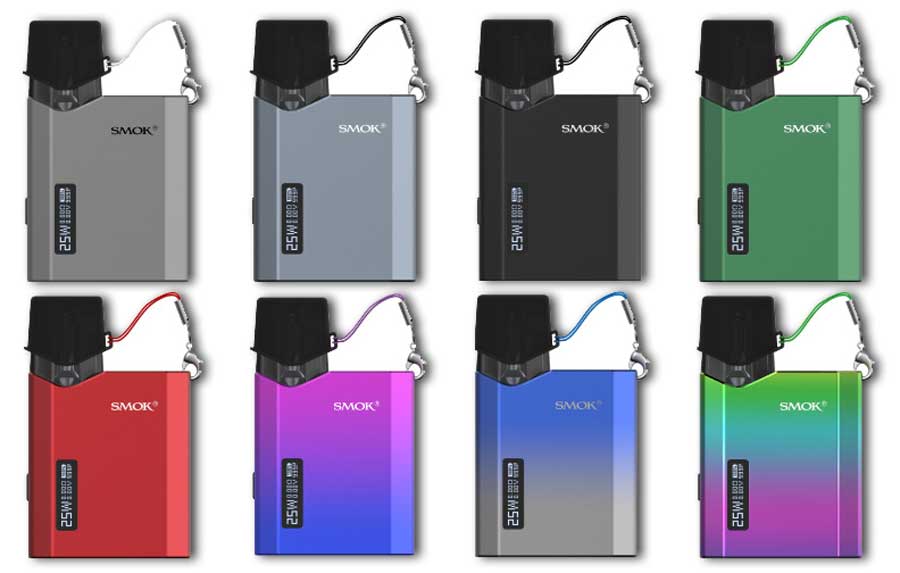 Here are cheap deals to purchase the Smok Nfix Mate Pod Kit. This new setup features a compact shape, 25 watts of adjustable power, a silicone dust cap, draw-activated firing, a 1100mAh internal battery, 90-minute charging, a 0.69 inch OLED screen, fast firing, a multitude of safety features, a 3mL juice capacity, an MTL pod, and a DTL pod.
Smok Nfix Mate Overview
The Smok Nfix Mate continues the popularity and similar look of the previous Nfix pod kit, but with a brand new battery capacity and a more shape.  You see, the Mate has a 1100mAh internal cell versus a 700mAh one, 320 puffs per refill versus 210, and a draw-activated system instead of button firing.  Moreover, the Nfix has a square form factor, making it easier to carry in the pocket, but it does weigh slightly more.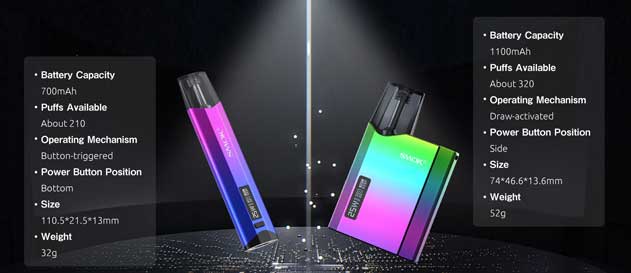 The inside of the Nfix Mate houses a 1100mAh battery that, as previously mentioned, permits up to 320 puffs on a single charge.  This ensures long vape times, but if a recharge is needed, you can simply do so via a Type-C port that is designed to safely top off the battery if it runs out of power.  This charging interface operates with a 0.69 amp current to finish the process in less than 90 minutes.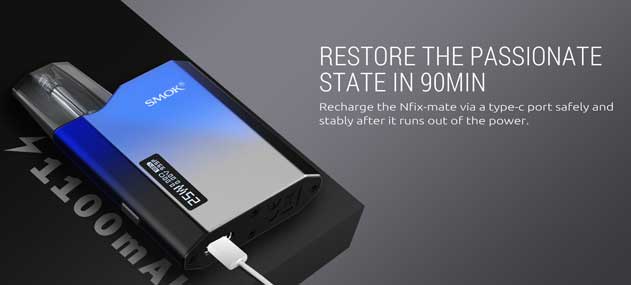 Technically, the Smok Nfix Mate is capable of 25 watts of power, adjustable from only one watt.  Making changes to this setting is done by way of a 0.69 inch OLED screen on the front and an adjustment button on the side.  On the screen, you can see specific operating details such as the selected power, the battery's charge level, a puff counter,  the pod's atomizer resistance, and voltage. Best of all, to keep everything safe and ensure a stable vape experience, the chipset integrates lithium battery protection, 8-second cutoff, atomizer detection, short circuit protection, and low voltage protection.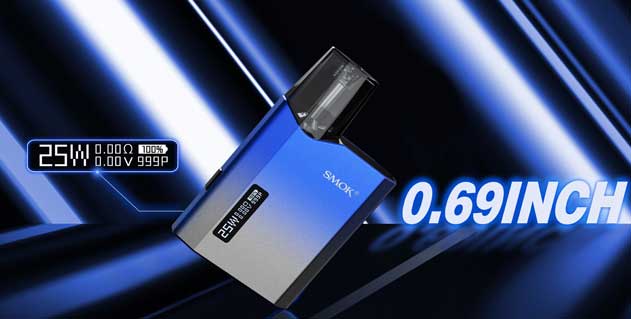 There are two different pods that are compatible with the Nfix Mate kit. The first is the included DC 0.8ohm MTL pod that features dual coils, high flavor production, and a 15 to 25 watt range. Or, use the included 0.8ohm mesh MTL pod with a single mesh heating element, a large surface area, and 10 to 15 watts of output for excellent vapor and flavor.  Both of these are included with purchase and work well with high nicotine or standard vape juices.  Finally, there's also an optional Nfix SC 1.0ohm pod with single coil, intense flavor, strong throat hit, and output in the range of 15 to 25 watts.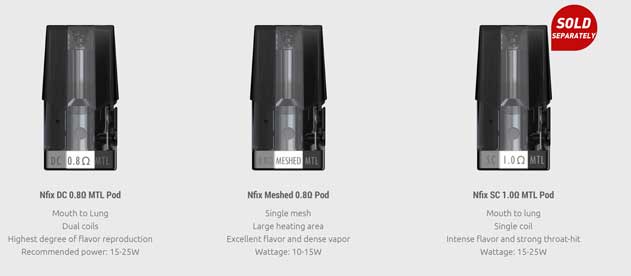 Each Nfix Mate pod is designed to be ergonomic and the material is translucent, so you may keep an eye on the current juice level in the reservoir.  To refill the pod, simply pull it from the battery section and open the silicone plug to expose a fill port to squirt your favorite e-liquid into.  The juice capacity comes in at 3mL which will last a long time since the Nfix Mate is a low wattage vape system. Most importantly, the pods feature powerful magnets to result in a tight connection to the mod.  This ensures the pods never move around, yet they easily separate from the battery. As a bonus, there's also two silicone dust caps included which keeps dust and impurities from entering the mouthpiece.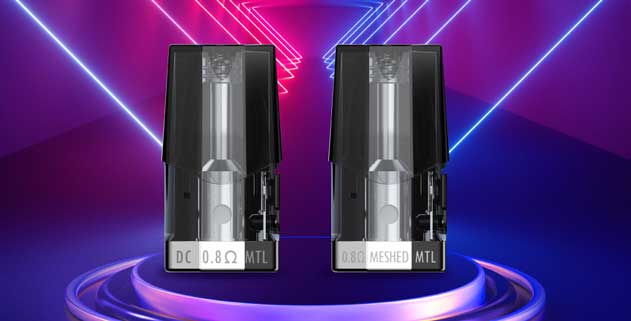 Features & Specifications
Each Smok Nfix Mate has dimensions of 74mm by 46.6mm by 13.6mm and weighs 52 grams.  The kit is for sale in silver, grey, black, green, red, blue/purple, silver/blue, and rainbow colors.  Built with a 1100mAh internal battery, there's a bottom USB charging port that finishes charging within 90 minutes. The power output of the Nfix Mate is 25 watts and you may adjust this setting via a 0.69 OLED display screen and an adjustment button.  And, each pod can hold 3mL of e-liquid , refilled via a side fill port.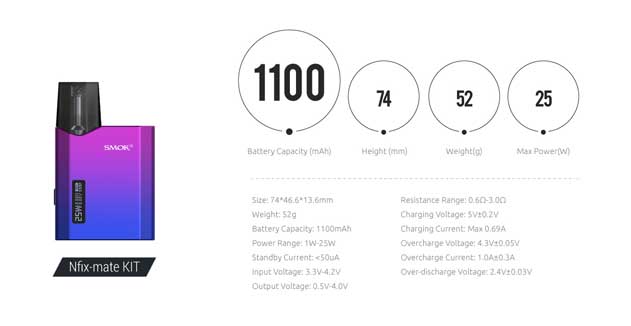 Package
With the purchase of the Nfix Mate device, you will also receive one Mesh 0.8ohm pod, one DC 0.8ohm MTL pod, two silicone dust caps, a lanyard for the cap, a Type-C charging cable, and a manual.

Related
Total Views Today: 1 Total Views: 2,197