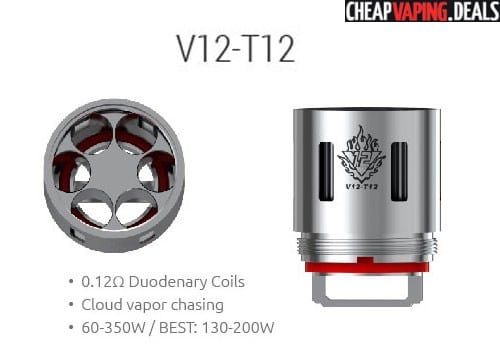 Check out this awesome price for a 3-pack of authentic Smok V12-T12 Replacement Coils. These are the best coils for the TFV12!
On a side note, don't buy any TFV12 or other coils from Fasttech.com.   They are fake coils!
Overview
The TFV12 has many types of coils available, but the most popular one is perhaps the duodenary V12-T12 core.  This head was made for high power vaping with massive vapor production.
A Smok V12-T12 coil fires with a resistance of 0.12ohm, has a power rating from 60 watts to 350 watts and is best from 130W to 200W.  This patented replacement head is duodenary which means it is made of 12 coils for the biggest vapor production possible.
All product listings on this page are discounted, but  are still authentic TFV12 T12 coils, so you won't have to worry about receiving any cloned/fake ones.
Features & Specs
3 x Original Smoktech V12-T12 coils
Made from stainless steel
Measurements: 15mm x 27mm or 0.59″ x 1.06″
Duodenary (12) coils for huge vapor and cloud chasing
Weight: 15g or 0.53oz
Color: silver
Resistance rating: 0.12Ω
Power rating: 60W to 350W
Recommended power: 130W to 200W